Fairchild Products Pneumatic High Pressure Regulator
100308E Fairchild Products Pneumatic High Pressure Regulator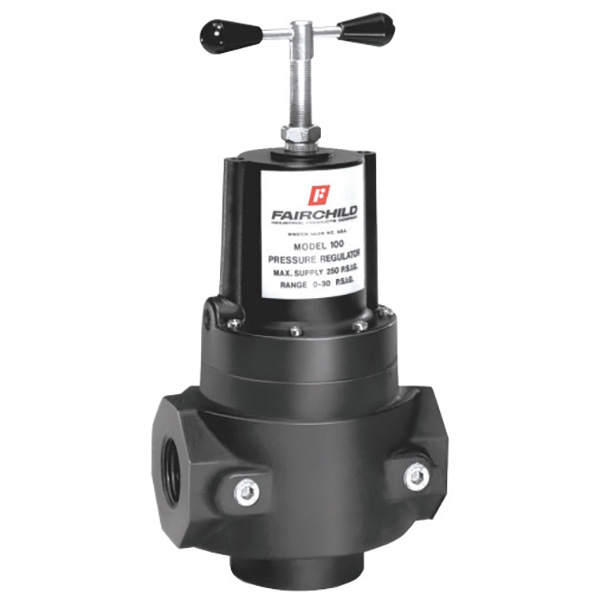 Product Type:

High Precision Regulator, High Pressure Regulator

Adjustment Type:

Handle

Air Consumption:

1500 SCFM at 100 PSIG (Flow), 44 SCFM (Exhaust)

Body Material:

Aluminum

Diaphragm Material:

Buna-N

End Connection:

Female Threaded x Female Threaded

Inlet Pressure:

250 PSIG

Mounting Hole Diameter:

1/4 in.-20 TPI x 0.625 in.

Outlet Pressure:

0.5 to 30 PSIG

Port Size:

1 in x 1 in

Size:

5-1/2 in. Diam. x 11-1/4 in. H

Temperature Rating:

-40 to 200 Deg F (Ambient)

Refine Search:

Pneumatic
100308E Fairchild Pneumatic Precision High Pressure Regulator, 1" FPT Pipe, 0.5 to 30 PSIG, Aluminum, Buna-N Diaphragm, Handle Adjustment, Spring Opposed, Pneumatic Precision High Pressure Regulator with Tapped Exhaust Vent.
Product Description
Pneumatic Precision High Pressure Regulator; Type Spring Opposed, Diaphragm Operated; Adjustment Type Handle; Port Size 1 Inch x 1 Inch; End Connection Female Threaded x Female Threaded; Size 5-1/2 Inch Diameter x 11-1/4 Inch Height; Mounting Hole Diameter 1/4 Inch-20 TPI x 0.625 Inch; Body Material Aluminum; Diaphragm Material Buna-N; Air Consumption 1500 SCFM at 100 PSIG (Flow), 44 SCFM (Exhaust); Inlet Pressure 250 PSIG; Outlet Pressure 0.5 to 30 PSIG; Temperature Rating -40 to 200 Deg F (Ambient); Gauge Port Size 1/4 Inch NPTF Threaded; Supply Pressure Effect 0.1 PSIG; Sensitivity 1 Inch WC; Includes Zinc Plated Steel/Brass Trim, Tapped Exhaust Vent
FEATURES
Venturi-Type Aspirator Tube to Aid Higher Stability to Minimize Downstream Pressure Droop Under Flowing Conditions; Balanced Supply Valve to Minimizes Effect of any Supply Pressure Variation; Control Chamber Isolates the Control Diaphragm; Large Valves and Orifices; Unit Construction; Excellent for High Flow Application; Responds to and Compensates for Even Minute Changes in Downstream Pressure; Eliminates Hunting and Buzzing; Operates Equally Well on Shop Air or Clean, Dry Instrument Air; May be Serviced and Maintained without Removal from Line
Series/Model Info
The Model 100 High Flow Pressure Regulator is designed for use in control systems requiring unusually high flow capacities. Like many of the Fairchild regulators, the compensating action of the inner valve assembly of the Model 100 allows complete stabilization of downstream pressure. This high quality unit, which operates as efficiently on shop air as on dry instrument air, offers unusual versatility and economy. The Model 100 is capable of providing precise control of set point and good sensitivity under high flow conditions, and is the ideal choice for many demanding applications, including main header regulator control, large nip roll loading, and clutch brake operation.
Dimension Drawing