Fairchild Products Model 10 Pneumatic Precision Regulator
10264H Fairchild Products Model 10 Pneumatic Precision Regulator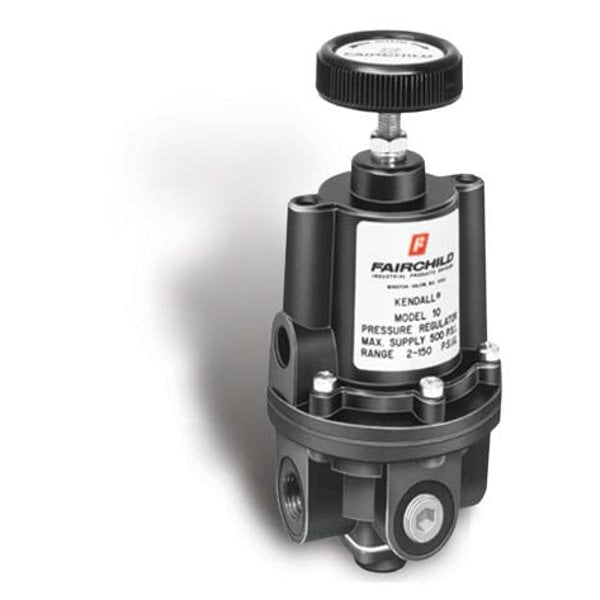 Product Type:

High Precision Regulator

Accuracy:

0.10 psi

Ambient Temperature:

-40 F (-40 C) to 200 F (93.3 C)

Base Model:

10264

Body Material:

Aluminum

Elastomer:

Nitrile on Dacron

Exhaust Capacity:

5.5 SCFM [9.36m3/Hr] where downstream pressure is 5 psi above 20 psi setpoint

Exhaust Type:

Straight (standard)

Flow Capacity:

40 SCFM

Mounting:

Wall (order 09921 bracket below)

Operator:

Knob (standard) 1-7/8 in OD

Options:

[H] BSPP (parallel)

Pipe Size:

1/2 BSPP

Pressure Range:

2-150 psi

Sensitivity:

1/8 in WC

Supply Pressure:

500 psi

Trim:

Zinc Plated Steel Brass

Refine Search:

Pneumatic

Flow Capacity:

40 SCFM (68 M³/HR)
Fairchild Model 10 Pneumatic Precision Regulator, 2-150 psi adjust, 500 psi [35 BAR] supply, 40 SCFM [68m3/Hr]@100 psi supply/20 psi set, 1/2 BSPP line, 1/4 BSPT gauge, Nitrile on Dacron.
Product Description
The Rotork Fairchild Model 10 is a precision pressure regulator designed for applications that require high performance and accurate process control. Stability of regulated pressure is maintained under varying flow conditions through the use of an aspirator tube which adjusts the supply valve in accordance with the flow velocity. The Model 10 features control sensitivity of 1/8 in water column and a balanced supply valve to deliver consistent and reliable precision accuracy to maintain your desired set point regardless of supply pressure changes or conditions. The Fairchild Model 10 pressure regulator will handle a 500 psig [34 BAR] maximum supply pressure and offers nine (9) output pressure ranges from 0-2 psig [0-0.15 BAR] (0-15 kPa) up to 5-400 psig [0.3-28 BAR] (35-2800 kPa).
Highest accuracy pressure regulator available
Prevents supply pressure changes from affecting the setpoint
Isolates diaphragm from flow to eliminate hunting and buzzing
Compensates downstream pressure droop under flow conditions
Select the range best suited for your application
Permits backflow of downstream pressure
Facilitates the handling of harsh media
Hazardous locations: Group II, Category 2, Gas and Dusts: Zones 1, 2 and 21,22, respectively Gas Groups IIA and IIB
NOTES:
Oil free air must be applied to the regulator. Use a filter to remove dirt and entrained liquid in the air line ahead of the regulator. If an air line lubricator is used, it MUST be located downstream of the regulator, to avoid interference with regulator performance.
Dimension Drawing