Fairchild Products Model 10BP Precision Back Pressure Regulator
10274BPH Fairchild Products Model 10BP Precision Back Pressure Regulator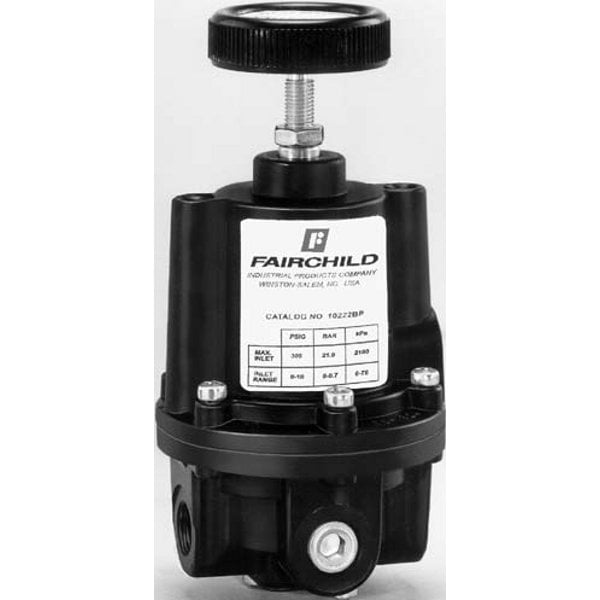 Product Type:

Back Pressure Regulator

Accuracy:

0.10 psi

Ambient Temperature:

-40 F (-40 C) to 200 F (93.3 C)

Base Model:

10274BP

Body Material:

Aluminum

Elastomer:

Nitrile on Dacron

Flow Capacity:

40 SCFM

Operator:

Knob (standard) 1-7/8 in OD

Options:

[H] BSPP (parallel)

Pipe Size:

1/2 BSPP

Pressure Range:

3-200 psi

Sensitivity:

Less than 1/8 in WC

Supply Pressure:

300 psi

Trim:

Zinc Plated Steel Brass

Refine Search:

Industrial
Fairchild Model 10BP Precision Back Pressure Regulator, 3-200 psig setpoint, 300 psig [21 BAR] max, 40 SCFM [68m3/Hr] @ 100 psig supply, 0.10 psi accuracy, 1/2 BSPP line, 1/4 BSPT gauge ports, Nitrile on Dacron.
Browse All Model 10BP Products
Product Description
The Rotork Fairchild Model 10BP Regulator is an excellent choice for applications which require high precision control of back pressures and relief pressures. The Model 10BP uses a force balance principle to open the relief valve and vent the system pressure when the set point is exceeded. The Model 10BP features control sensitivity of 1/8 in water column and a balanced supply valve to deliver consistent and reliable precision accuracy to maintain your desired set point regardless of supply pressure changes or conditions. The Model 10BP pneumatic regulator is a high capacity regulator that provides greater accuracy than relief valves over a narrow pressure range, making it an excellent choice for a wide range of precision applications. The Fairchild Model 10BP will handle a 500 psig [34 BAR] maximum system pressure and offers nine (9) setpoint pressure ranges from 0-2 psig [0-0.15 BAR] (0-15 kPa) up to 5-400 psig [0.3-28 BAR] (35-2800 kPa). The Fairchild Model 10BP back pressure regulator offers 40 SCFM, 68m3/Hr flow capacity.
Highest accuracy pressure regulator available
Provides a highly responsive unit for control or relieving applications
Eliminates hunting and buzzing
Compensates for any pressure droop under flow conditions
Allows servicing with Model 10BP Service Kit without removal from the line
Easy installation and maintenance
NOTES:
Oil free air must be applied to the regulator. Use a filter to remove dirt and entrained liquid in the air line ahead of the regulator. If an air line lubricator is used, it MUST be located downstream of the regulator, to avoid interference with regulator performance.
Dimension Drawing