Edwards Signaling Sentrol 3/8 in Diam Press Fit w/Wire Leads
1072-N Edwards Signaling Sentrol 3/8 in Diam Press Fit w/Wire Leads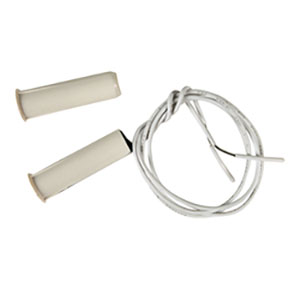 Product Type:

Contact Switch

Body Material:

ABS Plastic

Built-Switch:

NO

Measuring Range:

0.5 in

Operating Temperature:

-40 to 150° F

Protection:

IP67

Weight:

0.3 lb
1072-N Sentrol 1072 Series 3/8 in Diam Press Fit w/Wire Leads, 100VAC/DC 0.05 A max op voltage, normally open, 7.5VA load rating, 0.5 in nominal sense range, white ABS Plastic, 1 ft wire leads, -40 to 150 F temp range, IP67.
Browse All 1072 Series Products
Product Description
1072-N The 1072 Series recessed contacts are designed for applications where the added integrity of mounting screws is needed. The contacts work well in both wood and metal frame doors and windows. The two mounting holes provide additional strength to prevent the contact and magnet from becoming dislodged due to environmental changes. Such changes may occur when the door or window frame warps and misaligns from moisture or the settling of a building.
FEATURES
Recessed installation makes contacts less visible, more difficult to detect and defeat
Corrosion resistant, hermetically sealed switch works well in moist or dusty areas
Available wider gap distance helps prevent false alarms caused by loosefitting doors and windows