Fairchild Products Pneumatic Low Pressure Regulator
11114NNSBEB Fairchild Products Pneumatic Low Pressure Regulator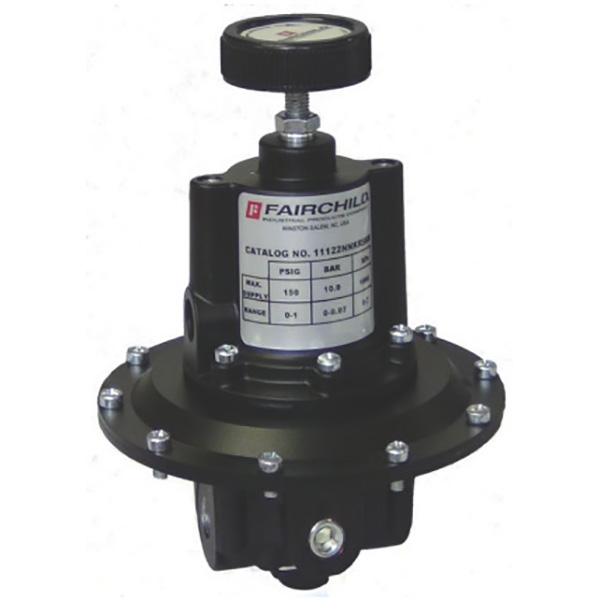 Product Type:

Low Pressure Regulator

Adjustment Type:

Screw Adjust

Air Consumption:

20 SCFM at 100 PSIG (Flow), 0.5 SCFM (Exhaust)

Body Material:

Aluminum

Diaphragm Material:

Nitrile

End Connection:

NPTF Threaded x NPTF Threaded

Inlet Pressure:

150 PSIG

Mounting Hole Diameter:

(2) 1/4 in.-20 UNC

Outlet Pressure:

0 to 0.5 PSI

Port Size:

1/2 in-14 TPI x 1/2 in-14 TPI

Size:

5-1/4 in. Diam. x 6-1/2 in. H

Temperature Rating:

-40 to 200 Deg F (Ambient)

Refine Search:

Pneumatic
11114NNSBEB Fairchild Pneumatic Precision Low Pressure Regulator, 1/2"-14 NPTF Port, 0 to 0.5 PSI, Aluminum, Nitrile Diaphragm, Bonnet Mount, Screw Adjustment, Low Bleed, Pneumatic Precision Low Pressure Regulator with Tapped Exhaust Vent.
Product Description
Pneumatic Precision Low Pressure Regulator; Type Low Bleed; Adjustment Type Screw Adjust; Port Size 1/2 Inch-14 TPI x 1/2 Inch-14 TPI; End Connection NPTF Threaded x NPTF Threaded; Size 5-1/4 Inch Diameter x 6-1/2 Inch Height; Mounting Hole Diameter (2) 1/4 Inch-20 UNC; Body Material Aluminum; Diaphragm Material Nitrile; Air Consumption 20 SCFM at 100 PSIG (Flow), 0.5 SCFM (Exhaust); Inlet Pressure 150 PSIG; Outlet Pressure 0 to 0.5 PSI; Temperature Rating -40 to 200 Deg F (Ambient); Gauge Port Size 1/4 Inch-18 NPTF Threaded or 1/4 Inch-19 TPI BSPT Threaded; Supply Pressure Effect 0.01 PSIG; Sensitivity 0.05 Inch WC; Mounting Type 2 Inch x 1/4 Inch-20 UNC Bonnet Mount; Includes Zinc Plated Steel/Stainless Steel Trim, Tapped Exhaust Vent
FEATURES
Sensitivity of 0.05 Inch WC for Precision Control in Low Pressure Applications; Relief Valve Provides High Exhaust Flows; Low Bleed Seat Minimizes Air Consumption; An Aspirator Tube Compensates for Downstream Pressure Droop Under Flow Conditions
Series/Model Info
The Fairchild Model 11 is a Low Pressure Precision Pressure Regulator designed for applications that require high performance and accurate process control at very low pressures down to 3 inches water column. The Fairchild Model 11 pneumatic low pressure regulator features control sensitivity of less than 0.05" water column and high flow capacity to deliver consistent and reliable precision accuracy to maintain your desired set point regardless of supply pressure changes or conditions. Fairchild Manufacturers a complete line of precision pneumatic Regulators including positive pressure, back pressure and vacuum models. Quality intelligence and manufacturing excellence assures that our pressure regulators meet all the requirements of a precision device. Our large selection of pressure ranges and flow capacities lets you select the model that models that meet your needs for instrument of general industrial control applications.
Dimension Drawing