12-12-12 MBT-SS Parker Tee Fitting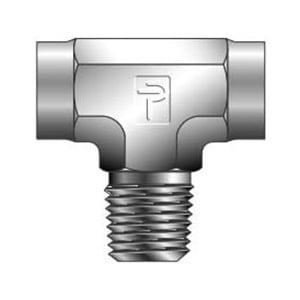 Application:

Air System, Chemical and Waste System, General Industrial System, Lubricating System

End Connection:

Male Threaded x Female Threaded x Female Threaded

Material:

316 Stainless Steel

Material Specification:

ASME SA182 316/BS970 316-S31/DIN 4401

Nominal Size:

3/4 in. x 3/4 in. x 3/4 in.

Pressure Rating:

3500 PSI

Process:

Close Grain Forging
Parker Instrumentation MBT Series Tee Fitting, 3/4" x 3/4" x 3/4", MPT x FPT x FPT, 3500 PSI, Close Grain Forging, 316 Stainless Steel, Straight, Tee.
Product Description
Tee Fitting; Type Straight; Nominal Size 3/4 Inch x 3/4 Inch x 3/4 Inch; End Connection Male Threaded x Female Threaded x Female Threaded; Material 316 Stainless Steel; Material Specification ASME SA182 316/BS970 316-S31/DIN 4401; Process Close Grain Forging; Pressure Rating 3500 PSI; Application Lubricating System, General Industrial System, Air System, Chemical and Waste System; Hex Size 1-5/16 Inch
Features/Benefits
Packaged in Sealed Boxes for Cleanliness; Rolled Male Thread for Extra Strength; Straight Bodies Machined from Applicable ASTM Bar Stock Specification; Shapes Machined from Close Grain Forgings; All Exposed Thread Protected to Prevent Damage
Series Information
Parker's Pipe Fittings deliver superior performance in pressures up to 10,000 psi. These instrumentation quality pipe fittings were developed to meet both ANSI B31.1 and ANSI B1 specifications for higher pressure and temperature service. These pipe fittings offer the installer the ability to directly connect to tubing with NPT to tube Tube fitting connections (for example, male connectors), thus eliminating an extra connection.
Additional Product Information
Tee Fitting; Type Straight; Nominal Size 3/4 Inch x 3/4 Inch x 3/4 Inch; End Connection Male Threaded x Female Threaded x Female Threaded; Material 316 Stainless Steel; Material Specification ASME SA182 316/BS970 316-S31/DIN 4401; Process Close Grain Forging; Pressure Rating 3500 PSI; Application Lubricating System, General Industrial System, Air System, Chemical and Waste System; Hex Size 1-5/16 Inch