12-8 FW-SS Parker Connector Fitting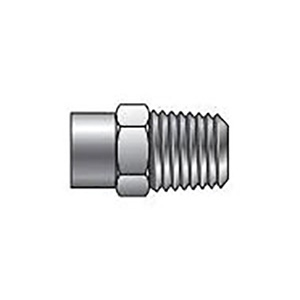 Applicable Standard:

ANSI B31.1/B31.7

Application:

Process Piping, Sensing Line, Steam Service Line

Designated Size:

3/4 Inch x 1/2 Inch

End Connection:

Socket Weld x Male Threaded

Material:

316 Stainless Steel

Material Specification:

ASTM A276/ASME SA479

Pressure Rating:

6000 PSI

Process:

Bar Stock

Schedule:

80

Product Type:

Connector Fitting
Parker Instrumentation FW Series Connector Fitting, 3/4" x 1/2", Socket Weld x MPT, 6000 PSI, Schedule 80, Bar Stock 316 Stainless Steel, Reducing, Connector.
Product Description
Connector Fitting; Item Connector Fitting; Type Reducing; Designated Size 3/4 Inch x 1/2 Inch; Schedule 80; End Connection Socket Weld x Male Threaded; Material 316 Stainless Steel; Material Specification ASTM A276/ASME SA479; Process Bar Stock; Pressure Rating 6000 PSI; Application Steam Service Line, Process Piping, Sensing Line; Applicable Standard ANSI B31.1/B31.7; Hex Size 1-1/8 Inch
Features/Benefits
Heat Code Traceable for Material Accountability
Series Information
Parker's Weld-lok® Series of permanent socket weld and butt weld tube fittings meet the most exacting requirements of any system. In contrast to general purpose weld fittings, the Parker weld fittings have the ability to directly connect to a tubing system with either single or two ferrule compression tube fittings. These 316 stainless steel fittings are a one piece adapter that makes a weld connection to a removable compression connection where removal may be necessary. These weld fittings are made from ASTM/ASME close grain forgings and bar stock. They are designed in accordance with ANSI B 16.11, which covers "Forged Steel Fittings Socket Welded and threaded". Parker's design parallels the Schedule 80, 3000 pound fitting pressure class, and is compatible with O.D. tube wall thickness meeting the related (3000 pound pipe class) pressure requirements.
Additional Product Information
Connector Fitting; Item Connector Fitting; Type Reducing; Designated Size 3/4 Inch x 1/2 Inch; Schedule 80; End Connection Socket Weld x Male Threaded; Material 316 Stainless Steel; Material Specification ASTM A276/ASME SA479; Process Bar Stock; Pressure Rating 6000 PSI; Application Steam Service Line, Process Piping, Sensing Line; Applicable Standard ANSI B31.1/B31.7; Hex Size 1-1/8 Inch