Bürkert Plunger Solenoid Valve
Bürkert Plunger Solenoid Valve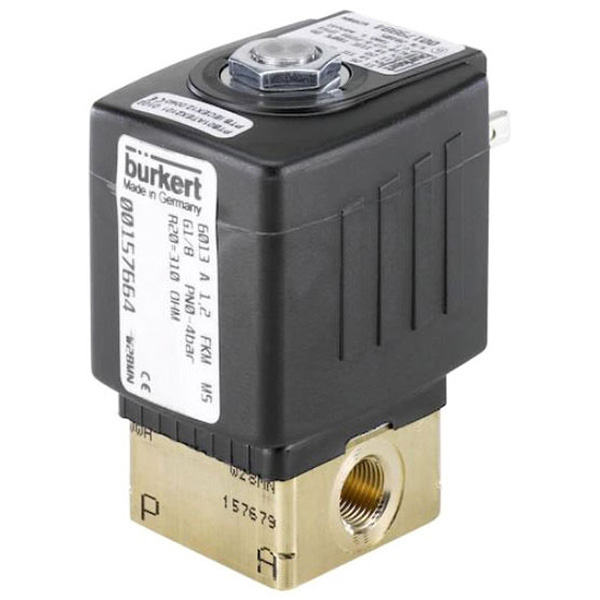 Manufacturer:

Bürkert

Product Family:

Type 6013

Enclosure:

IP65

Media Handled:

Hot Air/Hot Oil/Oil (Fluorocarbon), Neutral (Nitrile Rubber)

Temperature Rating:

-10 to 80 and-10 to 130°C, 55°C (Ambient)

Type:

2-Way/2-Position, Direct Acting

Valve Position:

Normally Closed
Bürkert Type 6013 Plunger Solenoid Valve, G1/8 x G1/8, FPT x FPT, 1/8" Orifice, 24 VDC, 8 W, 0 to 6 Bar, Brass, Normally Closed, 2-Way/2-Position, Direct Acting, Vibrationproof, Plunger Solenoid Valve.
Product Description
Solenoid Valve; Type 2-Way/2-Position, Direct Acting; Valve Position Normally Closed; Enclosure Type IP65; Temperature Rating -10 to 80 and-10 to 130 Deg C, 55 Deg C (Ambient); Media Handled Neutral (Nitrile Rubber), Hot Air/Hot Oil/Oil (Fluorocarbon); Inclusions/Features Nitrile Rubber/EPDM/Fluorocarbon Seal
Features/Benefits
Seat valve, direct-acting; Wide range of applications
Series Information
This direct-acting plunger solenoid valve Type 0256 can be used in many ways. It is delivered with brass or stainless steel bodies for a wide range of orifices and connections.