12M-C12L-5-BN-SS Parker Check Valve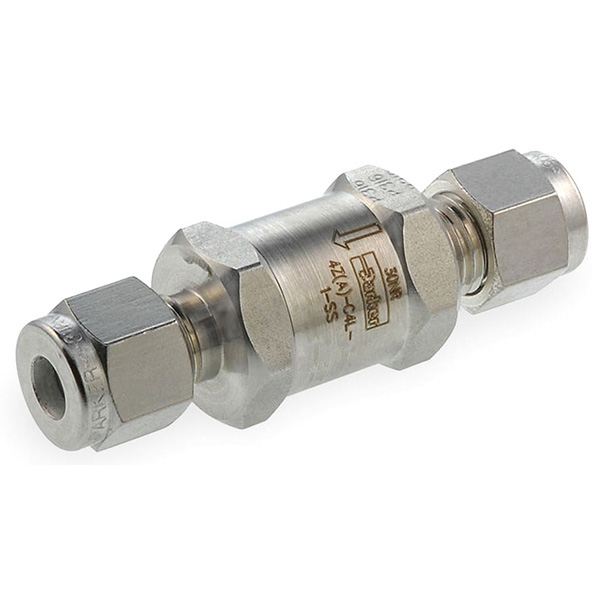 Application:

Back Flow Preventer, Chemical Processing, Oil and Gas Production and Transmission, Pharmaceutical, Power and Utility, Pulp and Paper, Uni-Directional Flow Control of Fluid and Gas

Body Material:

ASTM A276 316 Stainless Steel

Cap Material:

ASTM A276 316 Stainless Steel

End Connection:

Male Threaded x Male Threaded

End To End Distance:

4.09 in.

Nominal Size:

3/4 in. x 3/4 in.

Orifice Diameter:

0.594 in.

Pressure Rating:

6000 PSIG CWP, 5 PSI (Cracking)

Seat Material:

Nitrile

Spring Material:

316 Stainless Steel

Temperature Rating:

-30°F to 275 °F
Parker C12 Series Check Valve, 3/4" x 3/4", MPT x MPT, 6000 PSIG CWP, 5 PSI Cracking, Stainless Steel Body, Nitrile Seat, In-Line, Check Valve.
Product Description
Ball Valve; Type 2-Way Ball Valve, In-Line, Panel Mount; Nominal Size 1/4 Inch x 1/4 Inch; End Connection A-LOK Double Ferrule Compression x A-LOK Double Ferrule Compression; End to End Distance 2.96 Inch; Body Material ASTM A351 Grade CF3M Stainless Steel; Stem Material ASTM A276 316 Stainless Steel; Seal Material PTFE; Actuator Type Pinion Pneumatic; Actuator Condition 1/4 Turn Normally Closed Spring Return; Flow Rate 0.93 Cv; Temperature Rating -65 to 350 Deg F; Pressure Rating 1500 PSIG; Inclusions/Features PTFE Seat/Connector O-Ring/Retainer Seal/Stem Seal, 316 Stainless Steel Ball/Stem Washer/Panel Mounting Nut/Seat Retainer/Packing Nut/End Connector, Stainless Steel Handle Set Screw, (2) SPDT Limit Switch with Mounting Kit; Application Flow Diversion/Selection, Quick Fill System, Process Mixing System, Instrument Panel, Remote Shut-Off; Orifice Diameter 0.165 Inch
Features/Benefits
Free Floating Ball Design Provides Seat Wear Compensation; Micro-Finished Ball Provides a Positive Seal; Straight Through Flow Path for Minimum Pressure Drop; Bi-Directional Flow; Adjustable PTFE Stem Seal Can be Maintained In-Line; Handle Indicates Direction of Flow; Low Operating Torque; Positive Handle Stop
Series/Model Information
Parker's B Series Ball Valves are available manually, pneumatically, and electrically actuated. They provide quick on-off control of fluids utilized in process and instrumentation applications. A broad selection of valve body, seat, and seal materials provide a wide range of pressures (up to 6,000 PSI) and temperatures (up to 450F/232C) at which the valve may be used.
Inclusions
PTFE Connector O-Ring/Retainer Seal/Stem Seal, 316 Stainless Steel Stem Washer/Panel Mounting Nut/Seat Retainer/Packing Nut/End Connector, Stainless Steel Handle Set Screw