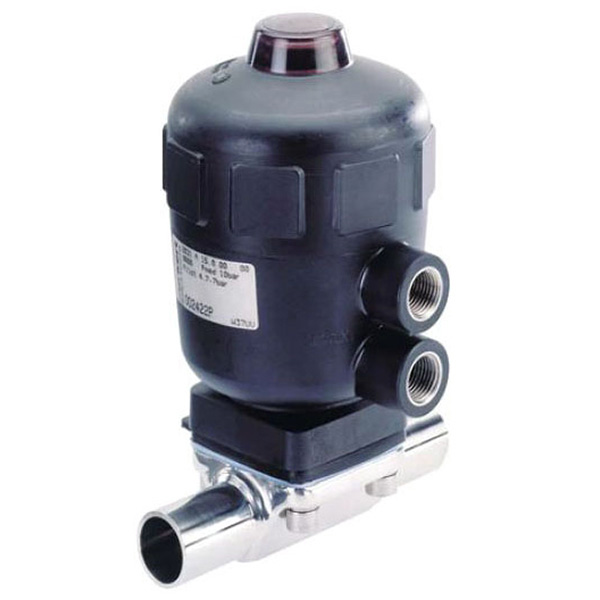 Manufacturer:

Bürkert

Product Family:

Type 2031

Applicable Standard:

ATEX, CE, UL

Application:

Water

Body Material:

Brass

Enclosure:

IP65

Input Supply Rating:

24 VDC

Media Handled:

Hydraulic Oil, Neutral Fluid, Water

Port Connection:

1/2 in. Inner Threaded x 1/2 in. Inner Threaded

Pressure Rating:

0 to 10 Bar

Temperature Rating:

-10 to 80°C (Medium),-10 to 55°C (Environment)

Type:

2-Way/2-Position

Valve Position:

Normally Closed

Weight:

1.27 lb
Bürkert Type 2031 Diaphragm Valve, Pneumatic Piston/Classic Actuator, Forged 1.4404 Stainless Steel, 2-Way/2-Position, Diaphragm Valve.
Product Description
Diaphragm Solenoid Valve; Type 2-Way/2-Position; Port Connection 1/2 Inch Inner Threaded x 1/2 Inch Inner Threaded; Valve Position Normally Closed; Body Material Brass; Enclosure Type IP65; Input Supply Rating 24 Volt DC; Temperature Rating -10 to 80 Deg C (Medium),-10 to 55 Deg C (Environment); Pressure Rating 0 to 10 Bar; Media Handled Neutral Fluid, Water, Hydraulic Oil; Inclusions/Features Nitrile Rubber Seal, Locknut, Stainless Steel Stopper/Magnetic Core/Spring, Copper Shading Ring, Fluorocarbon O-Ring; Application Water; Applicable Standard UL, CE, ATEX; RoHS Compliant; Power Rating 10 Watt; Coil Size 40 Millimeter; Coil Material Epoxy; Coil Insulation Class Type H; Orifice Size 1/2 Inch; Installation Length 58 Millimeter; Kv Factor 3.6 Cubic Meter per Hour; Flow Direction Above Seat
Features/Benefits
Servo-assisted diaphragm with diameter of up to DN40; Spring coupled diaphragm opens without differential pressure; Damped design for quiet closing; Compact construction with high flow rate; Energy-saving double coil technology with kick and drop design; RoHS Compliant
Series Information
The 6213 EV valve is a servo-assisted solenoid valve of the S.EV series. The spring coupling of the diaphragm supports the opening process of the valve. In its standard version, the valve is suitable for use in liquids. A minimum differential pressure is required for complete opening. A special version (HP00) which opens the valve without differential pressure is available for gas and vacuum applications. Various diaphragm material combinations are available depending on the application. The standard brass housing satisfies all European drinking water requirements. Dezincification-resistant brass is available for other markets. The housing offering is rounded off with a stainless steel version. To reduce power consumption in operation, coils with "Kick and Drop" (KD) electronics (double coil technology) are available. In combination with a plug in accordance with DIN EN 175301-803 Form A, the valves satisfy protection class IP65 – in combination with a stainless steel housing NEMA 4X.