Fairchild Products Pneumatic Positive Bias Relay
1526AE Fairchild Products Pneumatic Positive Bias Relay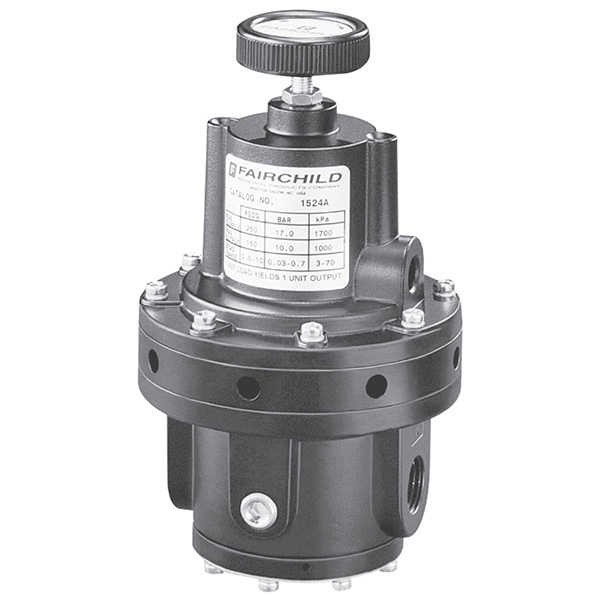 Product Type:

Biasing Relay
Fairchild Model 1500A Pneumatic Positive Bias Relay, 3/4" FPT Pipe, 0 to 10 PSIG, Aluminum Alloy, Nitrile on Dacron Diaphragm, Pneumatic Positive Bias Relay with Tapped Exhaust Vent.
Product Description
Pneumatic Positive Bias Relay; Item Positive Bias Relay; Overall Dimension 4-1/2 Inch Width x 9-23/64 Inch Height; Pipe Size 3/4 Inch Female Threaded; Gauge Port Size (2) 1/4 Inch Threaded; Material Aluminum Alloy (Body/Housing); Mounting Hole Size (2) 1/4 Inch-20 TPI x 0.5 Inch Full Threaded; Bias Pressure Range 0 to 10 PSIG; Supply Pressure 250 PSIG (Maximum); Signal/Output Pressure 150 PSIG (Maximum); Supply Pressure Effect 0.1 PSIG; Flow Capacity 150 SCFM at 100 PSIG; Exhaust Capacity 40 SCFM; Sensitivity 1 Inch WC; Ambient Temperature -40 to 200 Deg F; Includes Brass/Zinc Plated Steel Trim, Nitrile on Dacron Diaphragm, Tapped Exhaust Vent; Applicable Standard ISO 9001, FM
Features
Control Sensitivity of 1 Inch Water Column Allows Use in Precision Applications; Large Supply and Exhaust Valves Provide High Forward and Exhaust Flows; Soft Supply and Exhaust Valve Seats Minimize Air Consumption; A Balanced Supply Valve Minimizes the Effects of Supply Pressure Variation; An Aspirator Tube Compensates Downstream Pressure Droop Under Flow Conditions; A Separate Control Chamber Isolates the Diaphragm from the Main Flow to Eliminate Hunting and Buzzing; Unit Construction Lets You Service the Model 1500A without Removing it from the Line
Series/Model Info
The Model 1500 Positive Bias Relay is designed for applications that require an output pressure that is the sum of a controlled input signal plus a fixed bias. This pneumatic relay provides high output flow at an output pressure that represents the input signal pressure plus a preset bias.