15MAL4P8 Parker Adapter Fitting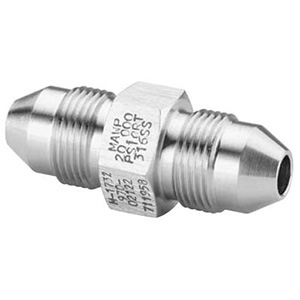 Applicable Standard:

ISO 9001

Application:

Chemical/Petrochemical, Oil and Gas, Research

End Connection:

SW250 Male Low Pressure x Male Threaded

Material:

316 Stainless Steel

Pressure Rating:

15000 PSI

Process:

Cold Worked

Size A:

1/4 in.

Size B:

1/2 in.
Parker Instrumentation Adapter Fitting, 1/4" x 1/2", SW250 Male Low Pressure x MPT, 15000 PSI, Cold Worked 316 Stainless Steel, Male, Reducing, Adapter.
Product Description
Adapter Fitting; Type Male, Reducing; Size A 1/4 Inch; Size B 1/2 Inch; End Connection SW250 Male Low Pressure x Male Threaded; Material 316 Stainless Steel; Process Cold Worked; Pressure Rating 15000 PSI; Temperature Rating 100 to 650 Deg F; Application Chemical/Petrochemical, Research, Oil and Gas; Applicable Standard ISO 9001; Hex Size 1 Inch; Includes Gland, Collar, Tube Nut and Sleeve
Features/Benefits
Male to Male Adapters Provide the Flexibility Needed for Both Large Complex Systems to Simple Tube Rack
Series Information
Autoclave Engineer's standard male-to-male one piece adapters are available in low, medium, and high pressure configurations. Standard male-to-male adapters are machined from cold worked stainless steel. Other materials are available upon request. Contact your local Sales Representative for optional information. The following tables list our standard adapters with dimensions.
Additional Product Information
Adapter Fitting; Type Male, Reducing; Size A 1/4 Inch; Size B 1/2 Inch; End Connection SW250 Male Low Pressure x Male Threaded; Material 316 Stainless Steel; Process Cold Worked; Pressure Rating 15000 PSI; Temperature Rating 100 to 650 Deg F; Application Chemical/Petrochemical, Research, Oil and Gas; Applicable Standard ISO 9001; Hex Size 1 Inch; Includes Gland, Collar, Tube Nut and Sleeve