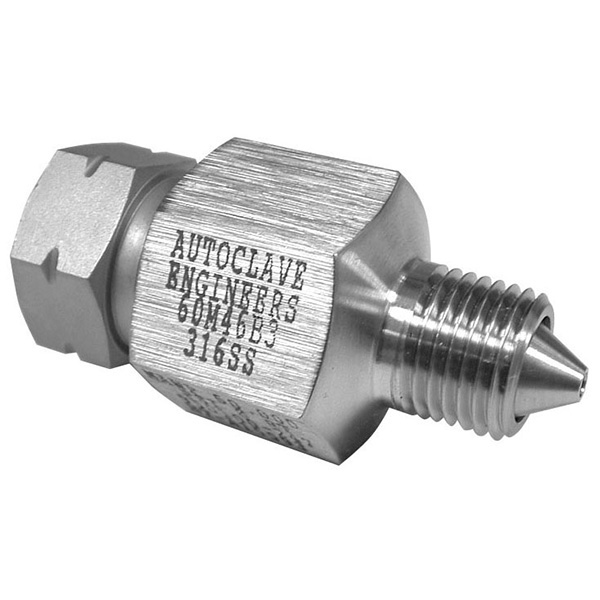 Manufacturer:

Parker Instrumentation

Applicable Standard:

ISO 9001

Application:

Chemical/Petrochemical, Oil and Gas, Research

End Connection:

SF250CX Male Medium Pressure x Female Threaded

Material:

316 Stainless Steel

Pressure Rating:

15000 PSI

Process:

Cold Worked

Size A:

1/4 in.

Size B:

1/4 in.
Parker Instrumentation Adapter Fitting, 1/4" x 1/4", SF250CX Male Medium Pressure x FPT, 15000 PSI, Cold Worked 316 Stainless Steel, Male, Straight, Adapter.
Product Description
Adapter Fitting; Type Male, Straight; Size A 1/4 Inch; Size B 1/4 Inch; End Connection SF250CX Male Medium Pressure x Female Threaded; Material 316 Stainless Steel; Process Cold Worked; Pressure Rating 15000 PSI; Temperature Rating -423 to 1200 Deg F; Application Chemical/Petrochemical, Research, Oil and Gas; Applicable Standard ISO 9001; Hex Size 0.75 Inch; Includes Gland, Collar, Tube Nut and Sleeve
Features/Benefits
Male to Female Adapters Provide the Flexibility Needed for Both Large Complex Systems to Simple Tube Rack
Series Information
Male /female adapters are designed to adapt a female connection to another size and/or type of connection without the need for additional couplings. In selecting an adapter involving two different sized connections, the larger connection should be on the male end where it is possible to maximize the mechanical strength of the adapter.
Additional Product Information
Adapter Fitting; Type Male, Straight; Size A 1/4 Inch; Size B 1/4 Inch; End Connection SF250CX Male Medium Pressure x Female Threaded; Material 316 Stainless Steel; Process Cold Worked; Pressure Rating 15000 PSI; Temperature Rating -423 to 1200 Deg F; Application Chemical/Petrochemical, Research, Oil and Gas; Applicable Standard ISO 9001; Hex Size 0.75 Inch; Includes Gland, Collar, Tube Nut and Sleeve