15P6071 Parker Needle Valve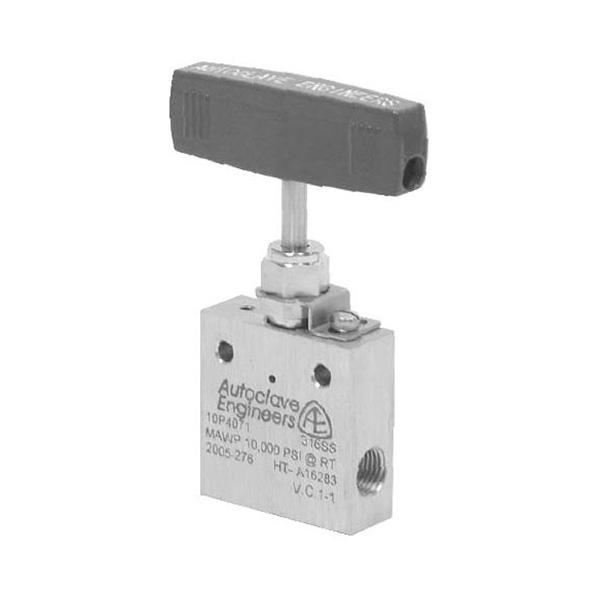 Actuation:

T-Bar Handle

Applicable Standard:

ISO 9001

Application:

Medium Pressure Fluid Handling System, Research Pilot System, Water Blasting, Waterjet System

Body Material:

Cold Worked 316 Stainless Steel

End Connection:

Female Threaded x Female Threaded

End To End Distance:

2.5 in.

Handle Material:

Powder Coated Stainless Steel

Nominal Size:

3/8 in. x 3/8 in.

Orifice Diameter:

0.219 in.

Pressure Rating:

15000 PSI

Seal Material:

Polytetrafluoroethylene

Stem Type:

Non-Rotating Vee

Temperature Rating:

-423 °F to 400 °F

Type:

2-Way, Straight
Parker Instrumentation 15P Series Needle Valve, 3/8", FPT, 15000 PSI, Cold Worked 316 Stainless Steel, Polytetrafluoroethylene Seal, Non-Rotating Vee Stem, T-Bar Handle, 2-Way, Straight, Needle Valve.
Product Description
Needle Valve; Type 2-Way, Straight; Actuation Type T-Bar Handle; Nominal Size 3/8 Inch x 3/8 Inch; Orifice Diameter 0.219 Inch; End Connection Female Threaded x Female Threaded; End to End Distance 2.5 Inch; Stem Type Non-Rotating Vee; Body Material Cold Worked 316 Stainless Steel; Seal Material Polytetrafluoroethylene; Handle Material Powder Coated Stainless Steel; Temperature Rating -423 to 400 Deg F; Pressure Rating 15000 PSI; Application Medium Pressure Fluid Handling System, Water Blasting, Waterjet System, Research Pilot System; Applicable Standard ISO 9001; Flow Capacity 0.75 Cv; Block Thickness 1 Inch
Features/Benefits
Rising Stem/Bar Stock Body Design; Non-Rotating Stem Prevents Stem/Seat Galling; Metal-To-Metal Seating Achieves Bubble Tight Shut Off, Longer Stem/Seat Life in Abrasive Flow, Greater Durability for Repeated On/Off Cycles and Excellent Corrosion Resistance; PTFE Encapsulated Packing Provides Dependable Stem and Body Sealing; Stem Sleeve and Packing Gland Materials have Been Selected to Achieve Extended Thread Cycle Life and Reduced Handle Torque
Series Information
Parker Autoclave's P Series pipe needle valves are designed to provide a commercial easy to use connection for gas and liquid service. These valves are complemented by a complete line of fittings, tubing and accessories. P Series valve design provides in-line pipe connections for 1/4" to 1" pipe sizes. These pipe valves work in pressures up to 15,000 psi (1034 bar). Operating temperatures can go from -423F to 400°F (-252°C to 204°C) with 316 stainless steel body as standard.
Additional Product Information
Needle Valve; Type 2-Way, Straight; Actuation Type T-Bar Handle; Nominal Size 3/8 Inch x 3/8 Inch; Orifice Diameter 0.219 Inch; End Connection Female Threaded x Female Threaded; End to End Distance 2.5 Inch; Stem Type Non-Rotating Vee; Body Material Cold Worked 316 Stainless Steel; Seal Material Polytetrafluoroethylene; Handle Material Powder Coated Stainless Steel; Temperature Rating -423 to 400 Deg F; Pressure Rating 15000 PSI; Application Medium Pressure Fluid Handling System, Water Blasting, Waterjet System, Research Pilot System; Applicable Standard ISO 9001; Flow Capacity 0.75 Cv; Block Thickness 1 Inch