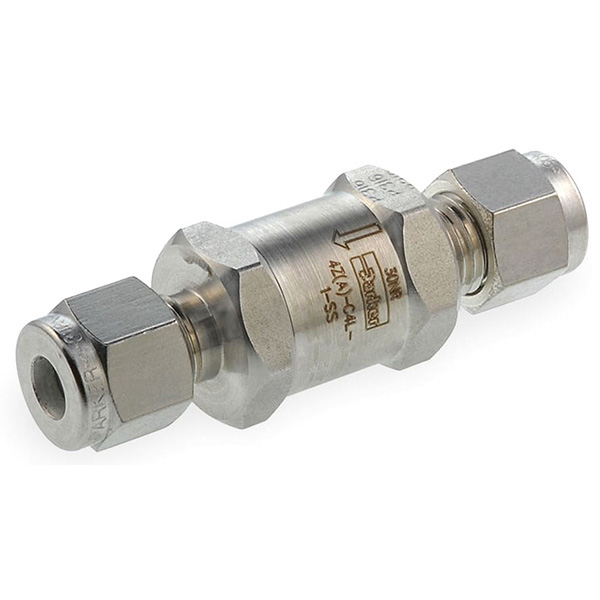 Manufacturer:

Parker Instrumentation

Product Family:

C16 Series

Application:

Back Flow Preventer, Chemical Processing, Oil and Gas Production and Transmission, Pharmaceutical, Power and Utility, Pulp and Paper, Uni-Directional Flow Control of Fluid and Gas

Body Material:

ASTM A276 316 Stainless Steel

Cap Material:

ASTM A276 316 Stainless Steel

End Connection:

A-LOK Double Ferrule Compr. x A-LOK Double Ferrule Compr.

End To End Distance:

4.63 in.

Nominal Size:

1 in. x 1 in.

Orifice Diameter:

0.656 in.

Pressure Rating:

6000 PSIG CWP, 1 PSI (Cracking)

Seat Material:

PTFE

Spring Material:

316 Stainless Steel

Temperature:

-65°F to 400 °F
Parker C16 Series Check Valve, 1" x 1", A-LOK Double Ferrule Compression x A-LOK Double Ferrule Compression, 6000 PSIG CWP, 1 PSI Cracking, Stainless Steel Body, PTFE Seat, In-Line, Check Valve.
Product Description
Plug Valve; Type Straight Through Flow/Bi-Direction, Lubricated, Rising Stem; Actuation Type T-Bar Handle; Nominal Size 1/2 Inch x 1/2 Inch; End Connection Female Threaded x Female Threaded; End to End Distance 5.58 Inch; Body Material Rugged/Bar Stock ASTM A479 316 Stainless Steel; Stem Material ASTM A276/A564 316 Stainless Steel; Seat Material Acetal; Seal Material Fluorocarbon Rubber; Handle Material Stainless Steel; Temperature Rating -20 to 250 Deg F, -20 to 400 Deg F; Pressure Rating 6000 PSIG CWP; Inclusions/Features Stainless Steel Bonnet/Seat Pin/Lock Plate/Lock Plate Screw/Lock Washer/Handle Screw, PTFE Back-Up Ring/Dust Seal; Application Process Control Line, Gauge Port, Severe Service, High Pressure Line; Orifice Diameter 0.25 Inch; Flow Capacity 2.01 Cv
Features/Benefits
Roddable; Bonnet Lock Plate Resists Accidental Bonnet Disengagement; Stem Dust Seal Helps Protect Stem from External Contamination; 100% Factory Tested
Series/Model Information
Parker Rising Plug and Gauge/Root Valves are a screwed bonnet design and available with a variety of seat and seal materials. These valves feature bonnet lock plates for additional valve safety. The PV and PVG Series of valves provide a straight-through flow path in two orifice sizes. This "roddable" feature lets the user clean out the flow stream in dirty or a sticky application. Plus the seat is replaceable. These are tremendous advantages over a general needle style valve.
Inclusions
304 Stainless Steel Packing Gland/Stem Hex/Grounding Spring, 301 Stainless Steel Seat/Stem Spring, PEEK Thrust Washer