16A-SWB16L-RT-BN-SS-S Parker Ball Valve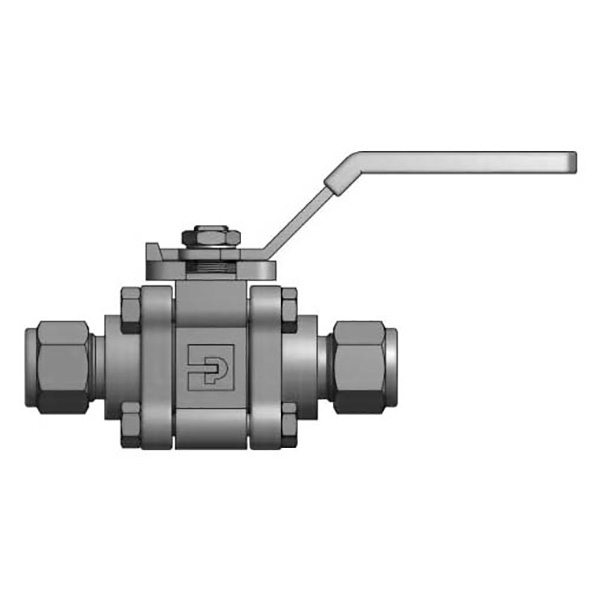 Actuation:

Oval Handle

Application:

Steam/Process Line, Wash Down/Lubrication System

Ball Material:

ASTM A276 316 Stainless Steel

Body Material:

ASTM A351 Grade CF3M Stainless Steel

End Connection:

A-LOK Double Ferrule Compr. x A-LOK Double Ferrule Compr.

End To End Distance:

5.36 in.

Handle Material:

Black Vinyl Covered ASTM A276 304 SS

Nominal Size:

1 in. x 1 in.

Pressure Rating:

2500 PSIG

Seal Material:

Nitrile Rubber

Seat Material:

Glass Reinforced PTFE

Stem Material:

ASTM A276 316 Stainless Steel

Temperature Rating:

-65°F to 450 °F (Seat), -40°F to 250 °F (Seal)
Parker SWB16 Series Ball Valve, 1" x 1", A-LOK Double Ferrule Compression x A-LOK Double Ferrule Compression, 2500 PSIG, Stainless Steel, Nitrile Rubber Seal, Black Oval Handle, 2-Way, 3-Piece, Swing-Out, Ball Valve.
Product Description
Ball Valve; Type 2-Way, 3-Piece, Swing-Out; Actuation Type Oval Handle; Nominal Size 1/2 Inch x 1/2 Inch; End Connection Female Threaded x Female Threaded; End to End Distance 2.58 Inch; Ball Material ASTM A276 316 Stainless Steel; Body Material ASTM A351 Grade CF3M Stainless Steel; Stem Material ASTM A276 316 Stainless Steel; Seat Material Virgin PEEK; Seal Material Grafoil Gasket; Handle Material Black Vinyl Covered ASTM A276 304 Stainless Steel; Temperature Rating -65 to 600 Deg F(Seat/Seal); Pressure Rating 2500 PSIG; Inclusions/Features 304 Stainless Steel Packing Gland/Stem Hex/Grounding Spring, 301 Stainless Steel Seat/Stem Spring, PEEK Thrust Washer; Application Steam/Process Line, Wash Down/Lubrication System; Orifice Diameter 0.44 Inch; Flow Capacity 8.2 Cv
Features/Benefits
Ultra Low Internal Volume; Free Floating Ball Design Allows for Seat Wear Compensation; Self-Compensating Stem Seal; Spring-Loaded Seat; Blow-Out Resistant Stem; Fully Enclosed Body Bolting; Four Bolt Construction; ISO-Type Actuator Mounting Design; 100% Factory Tested
Series/Model Information
Parker's SWB Series, Swing - Out Ball Valves are a three piece design. These instrumentation ball valves are durable valves that can handle various low pressure (2,500 PSI) pressure tubing and piping loads. The ball valve's center body section can swing out provide quick and easy valve seat, seals and the ball replacement. All of this repair capability is without having to remove the valve from the instrumentation tubing or piping system.
Inclusions
304 Stainless Steel Packing Gland/Stem Hex/Grounding Spring, 301 Stainless Steel Seat/Stem Spring, PEEK Thrust Washer