Cantel (Mar Cor) Actril Surface Disinfectant 1 Gallon
176-02-043-EA Cantel (Mar Cor) Actril Surface Disinfectant 1 Gallon
In Stock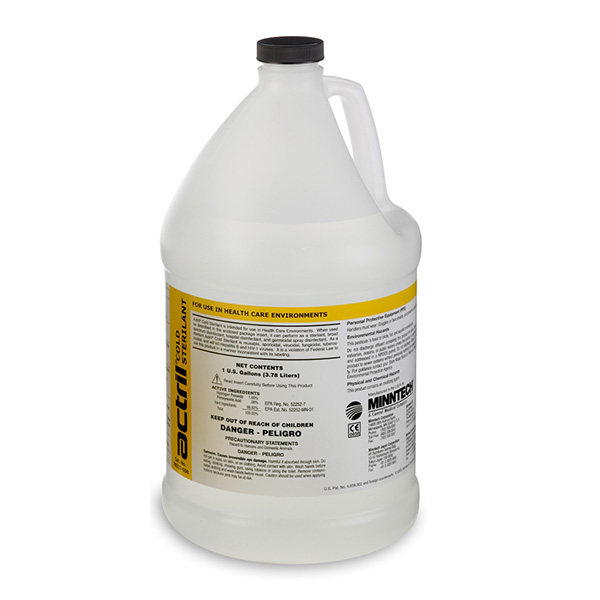 Product Type:

Sterilant

Product Family:

Actril

Quantity:

1 Gallon

Refine Search:

Sterilization Parts & Accessories
Cantel (Mar Cor) Acrtil Surface Disinfectant, 4x1 Gallon, Actril Cold Sterilant is an effective, ready-to-use disinfectant and sterilant for hard surfaces commonly found in pharmaceutical cleanrooms. Surfaces made from nonporous materials such as plastics, stainless steel or glass can be disinfected using Actril Cold Sterilant solutions.
Product Description
Effectiveness
Actril Cold Sterilant is a powerful disinfectant containing a proprietary mixture of 0.08% peracetic acid and 1.0% hydrogen peroxide. It is effective against a broad spectrum of organisms, including bacterial spores, fungal spores, bacteria, mycobacteria, yeast, molds and viruses. Actril Cold Sterilant is not a systemic bactericide. Rather it is a powerful oxidizer that attacks and breaks down the organic components of microorganisms, not just killing them, but destroying their structure. This makes Actril Cold Sterilant one of the fastest acting and most effective disinfectants available.
Standard Features
Effective in the presence of 5% blood serum.
Superior Sporicidal, Bactericidal, Fungicidal, Mycobactericidal and Virucidal Activity
Does Not Produce Any Toxic Aldehyde Vapors, Keeping Your Employees Safe
Compatible with all Common Cleanroom Surfaces.
Easily Disposable and Biodegradable, Keeping the Environment Safe
Filtered through 0.2 micron filters
Acrtril Cold Sterilant Material Compatibility
Actril Cold Sterilant has been tested and shown to be compatible with material coupons and medical devices made from the materials shown below:
Metals: Stainless Steel (316), Aluminum Alloy (6061)
Plastics: Polypropylene, Teflon, Acrylonitrile-butadienestyrene (ABS), Polyethylene, Polyvinylchloride (PVC), Polycarbonate, Tygon
Elastomers: Silicone Rubber
Other materials not listed should be tested for compatibility prior to use
Safety & the Environment
Actril Cold Sterilant, is extremely eco-friendly because Actril's raw materials are not listed as carcinogenic or mutanagenic materials, does not produce toxic vapors, and is safe for the environment. It is completely biodegradable and will decompose into oxygen, water and acetic acid.*

*Unused ACTRIL Cold Sterilant is acidic and requires normal neutralization as specified by local regulations. ACTRIL has a pH of 1.5 to 2.0.
Efficacy of Actril Cold Sterilant

Related Videos
Actril™ and Minncare™ Cold Sterilant Demonstrate Complete Inactivation of the 229E Human Coronavirus
Concerned about COVID-19 Coronavirus? Cantel recently had a third-party laboratory verify the efficacy of its Actril™ and Minncare™ Cold Sterilant on hard, non-porous surfaces. The test demonstrated a complete inactivation of the 229E human coronavirus strain in 5 minutes at room temperature when used according to label instructions.
If you're looking for an easy to use solution for surface disinfection and a cleaner, safer environment for your employees, students, and community, check out Actril™ and Minncare™ Cold Sterilants.
Actril™ Cold Sterilant is a powerful, ready-to-use disinfectant for use in small businesses, classrooms, airplanes, pharmaceutical cleanrooms and other critical infection prevention areas. Surfaces made from non-porous materials such as plastics, stainless steel or glass can be disinfected using Actril™ Cold Sterilant solutions.
With the 1-liter bottle equipped with spray head, you can spray the sterilant in the air and on surfaces and walk away. Hard surfaces can be wiped down shortly after contact. Actril™ does not produce any toxic aldehyde vapors, keeping you safe. The product is also easily disposable and biodegradable, keeping the environment safe and is EPA Certified.
Have large surfaces that need to be disinfected? No problem! Just pour Actril™ into a ULV dry fog delivery system to distribute product evenly and disinfect large areas in minutes.
Also available is the Minncare™ Cold Sterilant peracetic acid solution. This is a concentrated solution developed for use on reverse osmosis (RO) membranes and their associated distribution systems.
Valin currently has Actril™ and Minncare™ in stock and ready to deliver. Click on the link below to get your shipment of Actril™ and Minncare™ today.
Recommended Products