20SM4074 Parker Needle Valve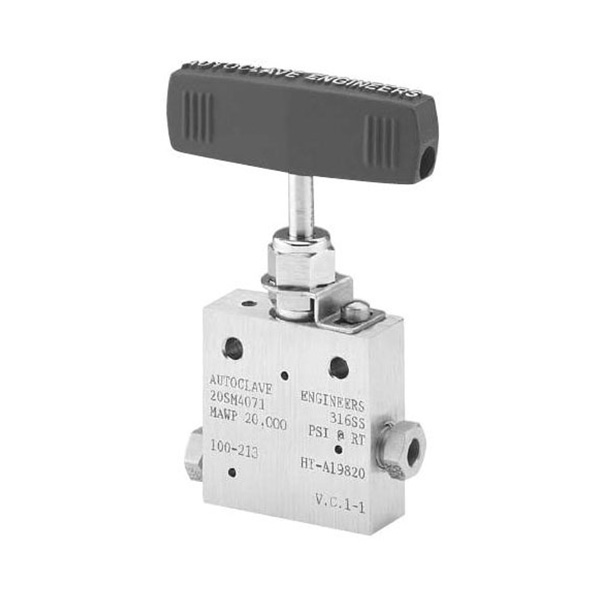 Actuation:

T-Bar Handle

Applicable Standard:

ISO 9001

Application:

Chemical Injection Skid, Medium Pressure Skid Panel/Fluid Handling System, Water Blasting

Body Material:

Cold Worked 316 Stainless Steel

End Connection:

SF250CX20 Medium Pressure x SF250CX20 Medium Pressure x SF250CX20 Medium Pressure

Handle Material:

Powder Coated Stainless Steel

Nominal Size:

1/4 in. x 1/4 in. x 1/4 in.

Orifice Diameter:

0.125 in.

Pressure Rating:

20000 PSI

Seal Material:

Polytetrafluoroethylene

Stem Type:

Non-Rotating Vee

Temperature Rating:

0 °F to 450 °F

Type:

3-Way, One-On Pressure
Parker Instrumentation 20SM Series Needle Valve, 1/4", SF250CX20 Medium Pressure, 20000 PSI, Cold Worked 316 Stainless Steel, Polytetrafluoroethylene Seal, Non-Rotating Vee Stem, T-Bar Handle, 3-Way, One-On Pressure, Needle Valve.
Product Description
Needle Valve; Type 3-Way, One-On Pressure; Actuation Type T-Bar Handle; Nominal Size 1/4 Inch x 1/4 Inch x 1/4 Inch; Orifice Diameter 0.125 Inch; End Connection SF250CX20 Medium Pressure x SF250CX20 Medium Pressure x SF250CX20 Medium Pressure; Stem Type Non-Rotating Vee; Body Material Cold Worked 316 Stainless Steel; Seal Material Polytetrafluoroethylene; Handle Material Powder Coated Stainless Steel; Temperature Rating 0 to 450 Deg F; Pressure Rating 20000 PSI; Application Medium Pressure Skid Panel/Fluid Handling System, Water Blasting, Chemical Injection Skid; Applicable Standard ISO 9001; Flow Capacity 0.31 Cv; Block Thickness 0.75 Inch
Features/Benefits
Rising Stem/Bar Stock Body Design; Non-Rotating Stem Prevents Stem/Seat Galling; Metal-To-Metal Seating Achieves Bubble Tight Shut Off, Longer Stem/Seat Life in Abrasive Flow, Greater Durability for Repeated On/Off Cycles and Excellent Corrosion Resistance; PTFE Encapsulated Packing Provides Dependable Stem and Body Sealing; Stem Sleeve and Packing Gland Materials have Been Selected to Achieve Extended Thread Cycle Life and Reduced Handle Torque
Series Information
Parker Autoclave's SM Series needle valves are designed with large ports for high flow applications. These valves have a non-rotating rising stem bar stock design with working pressures to 20,000 psi (1379 bar). The cone and thread connections utilize Parker Autoclave tubing with sizes from 1/4" to 1". Operating temperatures can go from -423F to 1200°F (-252°C to 649°C) with special graphite braided yarn packing (HT). 316 stainless steel construction is the standard material with other options available. Along with their many features these valves provide dependable and trouble free service in wide variety of applications.
Additional Product Information
Needle Valve; Type 3-Way, One-On Pressure; Actuation Type T-Bar Handle; Nominal Size 1/4 Inch x 1/4 Inch x 1/4 Inch; Orifice Diameter 0.125 Inch; End Connection SF250CX20 Medium Pressure x SF250CX20 Medium Pressure x SF250CX20 Medium Pressure; Stem Type Non-Rotating Vee; Body Material Cold Worked 316 Stainless Steel; Seal Material Polytetrafluoroethylene; Handle Material Powder Coated Stainless Steel; Temperature Rating 0 to 450 Deg F; Pressure Rating 20000 PSI; Application Medium Pressure Skid Panel/Fluid Handling System, Water Blasting, Chemical Injection Skid; Applicable Standard ISO 9001; Flow Capacity 0.31 Cv; Block Thickness 0.75 Inch