Chromalox ADH Series High Temperature Air Duct Heater
Chromalox ADH Series High Temperature Air Duct Heater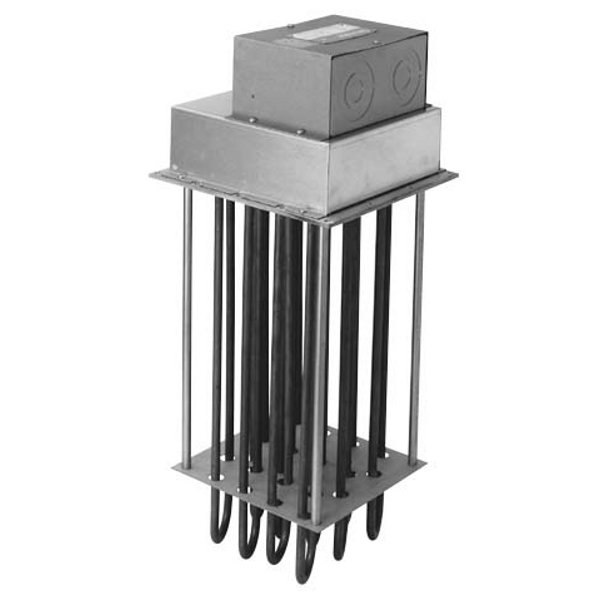 Product Type:

Air Duct Heater

Manufacturer:

Chromalox

Product Family:

Model ADH

Heater Application & Type:

High Temperature

Sheath Material:

Incoloy

Wattage:

50000W
Chromalox ADH Series High Temperature Air Duct Heater, 240V, 50000W, 30W/sq.in. watt density, 23-5/8" x 28-1/4" x 11-1/8" heater size, 3 phase, Incoloy sheath, 800°F max. outlet air temp., w/thermocouple and gas tight ftgs.
Product Description
ADH High Temperature Air Duct Heaters
5 - 270 kW
240 and 480 Volt, Three Phase (Up to 600V Available)
INCOLOY® Sheath Elements
30 W/In²
800°F Max. Outlet Air Temp.
Applications
Heat Air for Drying and Curing operations up to 1200°F Air Temperature
Heat Treating
Reheating or Dehumidification
Aircraft Manufacturing
Autoclaves
Annealing
Drying
Paint Baking or Drying
Sterilizing
Features
Long Life Metal Sheath Tubular Elements -- High grade INCOLOY® sheath material for excellent corrosion/oxidation resistance at high operating temperatures.
Sturdy Metal Sheath Elements minimize problems associated with open coil resistance wire units.
High Purity Magnesium Oxide -- The elements are filled with highest purity blends of magnesium oxide refractory (MgO) compacted to a rock hard density to ensure good thermal conductivity and electrical insulation resistance.
For more features and options refer to catalog page PDF to the right
Dimension Drawing