Parker Pipe Fittings 2224P Male Branch Tee
2224P-6 Parker Pipe Fittings 2224P Male Branch Tee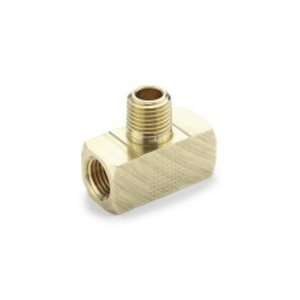 Refine Search:

Tee

End 1 Type:

Tube Fitting

End 2 Size:

3/8 in.

End 2 Type:

Tube Fitting

End 3 Size:

3/8 in.

End 3 Type:

MNPT

Product Type:

Branch Tee
Parker Pipe Fittings 2224P Male Branch Tee, Low Pressure Adapter Tee, Pipe, 3/8in, 1000 PSI, Brass, SAE J530, SAE J531, ASA.
Product Description
Pipe Fittings
All pipe fitting threads are made to Dryseal standards. Connectors, unions, nuts and extruded elbows and tees are machined from CA 360 or CA 345 brass rod; forged elbows and tees are machined from CA 377 brass.

Approvals
Meets functional requirements of the SAE J530, and SAE J531.

Applications
Use with brass, copper, or iron pipe.Manufactured for low and medium pressure line connection work.

Working Pressure and Temperature Ranges
From -65°F to 250°F at 1000 PSI. Vibration Fair resistance to vibration and pipe movement depending upon conditions.
Dimension Drawing