Chromalox TDH Medium Temperature Air Duct Heater
Chromalox TDH Medium Temperature Air Duct Heater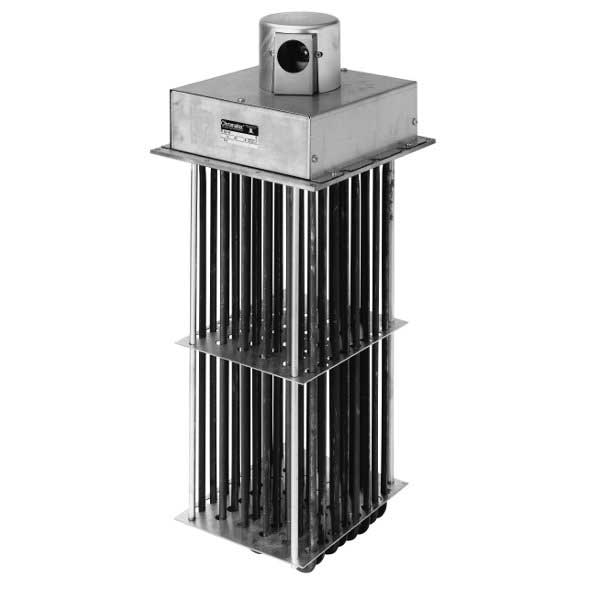 Product Type:

Air Duct Heater

Manufacturer:

Chromalox

Product Family:

Model TDH

Heater Application & Type:

Medium Temperature

Sheath Material:

Incoloy

Wattage:

54000W
Chromalox TDH Medium Temperature Air Duct Heater, 240/480V, 54000W, 22W/sq.in. watt density, 21-5/8" x 27-5/8" x 11-1/8" heater size, Incoloy sheath, 3 phase, 1150°F max. sheath temp.
Product Description
TDH Medium Temperature Air Duct Heater
750°F Max. Outlet Air Temp.
Third-party certifications: UL Recognized, CSA
Applications
Heat Air for Drying and Curing Operations up to 750°F Air Temperature, Heat Treating, Re-heating or Dehumidification, Booster Heater in Heating Ducts and Ovens.
Features
Steel flange is equipped with special holes to permit easy replacement of individual element. Sheet steel terminal box may be removed to facilitate wiring during installation.
All Heaters can be mounted in any position; top, side or bottom entry. In high ambient temperature operations, least corrosive action and least oxidation to the terminals will occur if heaters are mounted with terminals in the coolest possible ambient, usually on bottom or side of duct. Minimum duct size is A dimension plus 3/8" or 11-1/8" plus 3/8" and B dimension plus 1-5/8".
Dimension Drawing