Parker V4 Series Needle Valve
Parker V4 Series Needle Valve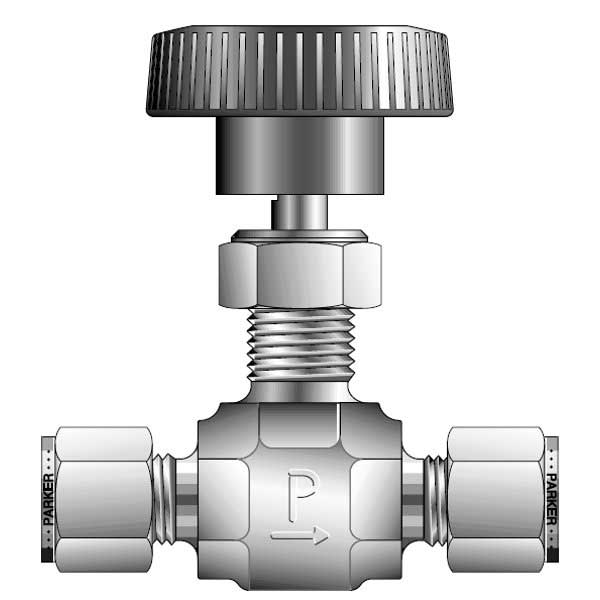 Product Type:

Needle Valves

Manufacturer:

Parker Instrumentation

Product Family:

V Series

Refine Search:

Instrumentation

End 1 Size:

1/8 in.

End 1 Type:

Double Ferrule Compression

End 2 Size:

1/8 in.

End 2 Type:

Double Ferrule Compression

Configuration:

Inline

Temperature Rating:

-65°F to 450°F (-54°C to 232°C)

Stem Seal:

PTFE

Stem Type:

Blunt
Parker V4 Series Needle Valve, 1/8", Double Ferrule Compression, Stainless Steel.
Product Description
Parker V Series Needle Valves are designed to provide positive leak tight shut-off and coarse regulation of fluids utilized in process and instrumentation applications.

These valves are manufactured from stainless steel or brass forgings and are a family of five integral bonnet designs with packing above the stem threads. From the smallest V2 model to the largest V12 model - all valves are capable of working at system pressures up to 5,000 psig (34.5 MPa) CWP at temperatures as high as 450 °F (232 °C). This family of valves can accommodate tubing as small as 1/16 inch and pipe as large as 1/2 inch. Flow coefficients (Cv) range from 0.12 to 1.80.

Three stem types are available. A regulating stem type (N) provides coarse regulation with metal-to-metal shut-off in liquid service. A blunt R stem type is typically used for on-off control of liquids. The PCTFE stem type is recommended for tight shut-off and coarse regulation in both liquid and gaseous service.

A variety of US Customary and SI port connections, including CPI™ and A-LOK® compression, and female and male NPT are available.
Dimension Drawing