2B4S15L4 Parker Ball Valve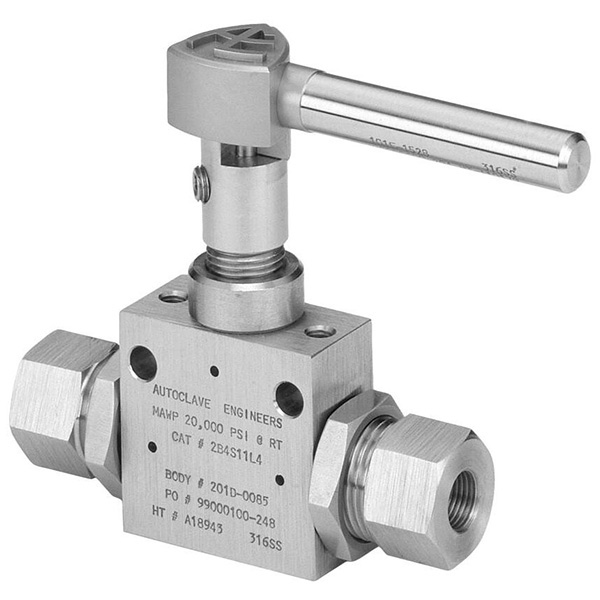 Actuation:

1/4 Turn Lever Handle

Applicable Standard:

ISO 9001

Application:

Chemical Research, Control Panel, High Volume Chemical Injection Skid, Laboratory, Pilot Plant, Test Stand, Water Blast Pumping Unit

Body Material:

Cold Worked 316 Stainless Steel

End Connection:

SW250 Low Pressure x SW250 Low Pressure

End To End Distance:

4.19 in.

Handle Material:

Stainless Steel

Nominal Size:

1/4 in. x 1/4 in.

Port Type:

Full

Pressure Rating:

15000 PSI

Seal Material:

Graphite Filled Polytetrafluoroethylene

Seat Material:

Polyetheretherketone

Stem Material:

Graphite Filled Polytetrafluoroethylene

Temperature Rating:

0 °F to 400 °F

Type:

2-Way
Parker Instrumentation 2B Series Ball Valve, 1/4", SW250 Low Pressure, 1/4" Orifice, 15000 PSI, Cold Worked 316 Stainless Steel, Graphite Filled Polytetrafluoroethylene Seal, 1/4 Turn Lever Handle, Full Port, 2-Way, Ball Valve.
Product Description
Ball Valve; Type 2-Way; Actuation Type 1/4 Turn Lever Handle; Nominal Size 1/4 Inch x 1/4 Inch; End Connection SW250 Low Pressure x SW250 Low Pressure; End to End Distance 4.19 Inch; Body Material Cold Worked 316 Stainless Steel; Stem Material Graphite Filled Polytetrafluoroethylene; Seat Material Polyetheretherketone; Seal Material Graphite Filled Polytetrafluoroethylene; Handle Material Stainless Steel; Port Type Full; Temperature Rating 0 to 400 Deg F; Pressure Rating 15000 PSI; Application Laboratory, Test Stand, Control Panel, Chemical Research, Pilot Plant, Water Blast Pumping Unit, High Volume Chemical Injection Skid; Applicable Standard ISO 9001; Hex Size 1 Inch; Orifice Size 1/4 Inch Diameter; Flow Capacity 0.26 Cv; O-Ring Material Viton
Features/Benefits
1-Piece, Trunnion Mounted Style, Stem Design Eliminates Shear Failure and Reduces the Effects of Side Loading Found in 2-Piece Design; Re-Torqueable Seat Glands for Longer Seat Life; Peek Seats Offer Excellent Resistance to Chemicals, Heat, and Wear/Abrasion; Full Port Flow Path Minimizes Pressure Drop; Low Friction Pressure Assisted Graphite Filled Non-Stick Stem Seal Increases Cycle Life and Reduces Operating Torque; 1/4 Turn from Open to Close with Positive Stop
Series Information
Parker Autoclave's 2B Series ball valves have been designed to provide superior quality for maximum performance within a variety of valve styles, sizes, and process connections. These ball valves feature an integral one-piece trunnion mounted ball and stem that eliminates the shear failure common to two-piece designs. The seat glands are re-torqueable for longer seat life, and the low friction pressure-assisted graphite filled PTFE stem seal reduces actuation torque and increases cycle life. The valves have a full port flow path that minimizes pressure drop, and are fitted with PEEK seats to ensure excellent chemical, heat and wear resistance.
Additional Product Information
Ball Valve; Type 2-Way; Actuation Type 1/4 Turn Lever Handle; Nominal Size 1/4 Inch x 1/4 Inch; End Connection SW250 Low Pressure x SW250 Low Pressure; End to End Distance 4.19 Inch; Body Material Cold Worked 316 Stainless Steel; Stem Material Graphite Filled Polytetrafluoroethylene; Seat Material Polyetheretherketone; Seal Material Graphite Filled Polytetrafluoroethylene; Handle Material Stainless Steel; Port Type Full; Temperature Rating 0 to 400 Deg F; Pressure Rating 15000 PSI; Application Laboratory, Test Stand, Control Panel, Chemical Research, Pilot Plant, Water Blast Pumping Unit, High Volume Chemical Injection Skid; Applicable Standard ISO 9001; Hex Size 1 Inch; Orifice Size 1/4 Inch Diameter; Flow Capacity 0.26 Cv; O-Ring Material Viton