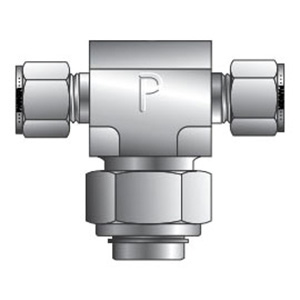 Manufacturer:

Parker Instrumentation

Product Family:

FT4 Series

Application:

Instrument Protection, Test Panel

Body Material:

ASTM A182 F316 Forged Stainless Steel

End Connection:

Female Threaded x Female Threaded

End To End Distance:

2 in.

Nominal Size:

1/8 in. x 1/8 in.

Pressure Rating:

4000 PSIG CWP

Temperature Rating:

-70°F to 400 °F
Parker FT4 Series Tee Filter Valve, 1/8" x 1/8", FPT x FPT, 4000 PSIG CWP, F316 Forged Stainless Steel, PTFE Seal, 0.157 Cv, 5 Micron, Compact, Tee Filter Valve.
Product Description
Check Valve; Nominal Size 3/8 Inch x 3/8 Inch; Orifice Diameter 0.281 Inch; End Connection A-LOK Double Ferrule Compression x A-LOK Double Ferrule Compression; End to End Distance 3.27 Inch; Body Material ASTM A276 316 Stainless Steel; Cap Material ASTM A276 316 Stainless Steel; Spring Material 316 Stainless Steel; Seat Material Ethylene Propylene Rubber; Temperature Rating -70 to 275 Deg F; Pressure Rating 6000 PSIG CWP, 50 PSI (Cracking); Inclusions/Features ASTM A479 Type 316 Stainless Steel Poppet; Application Uni-Directional Flow Control of Fluid and Gas, Chemical Processing, Oil and Gas Production and Transmission, Pharmaceutical, Pulp and Paper, Power and Utility, Back Flow Preventer; Hex Size 1 Inch and 0.688 Inch; Flow Capacity 0.66 Cv
Features/Benefits
Resilient, Custom Molded, Blow-Out Resistant Seat Design; Back Stopped Poppet Minimize Spring Stress; 100% Factory Tested for Both Crack and Reseat; Heat Code Traceability
Series/Model Information
Parker C Series Check Valves are designed for uni-directional flow control of fluids and gases in industries such as chemical processing, oil and gas production and transmission, pharmaceutical, pulp and paper, power and utilities.
Inclusions
316 Stainless Steel Hollow Insert/Solid Insert/Panel Nut, Stainless Steel Set Screw, PFA Seat/Packing