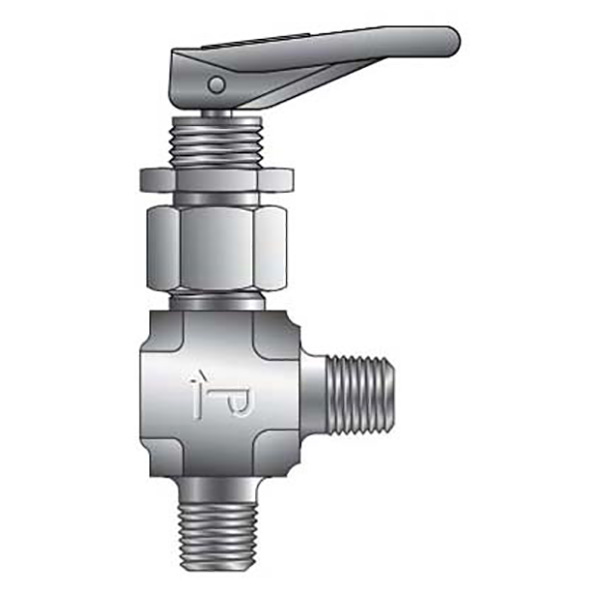 Manufacturer:

Parker Instrumentation

Product Family:

V4AQ Series

Actuation:

Lever Handle

Application:

Purge/Rapid Fill System, Test Panel

Body Material:

ASTM B283 Alloy C37700 Brass

End Connection:

Female Threaded x Female Threaded

Handle Material:

Nylon 6/6

Nominal Size:

1/8 in. x 1/8 in.

Pressure Rating:

300 PSIG CWP

Temperature Rating:

-65°F to 200 °F
Parker V4AQ Series Toggle Valve, 1/8" x 1/8", FPT x FPT, 300 PSIG CWP, C37700 Brass, Lever Handle, 0.49 Cv, Panel Mount, Manual, Quick Acting, Angle, Toggle Valve.
Product Description
Check Valve; Nominal Size 1/4 Inch x 1/4 Inch; End Connection Female Threaded x Male Threaded; Body Material ASTM A276 316 Stainless Steel; Cap Material ASTM A276 316 Stainless Steel; Spring Material 316 Stainless Steel; Seat Material Fluorocarbon Rubber; Temperature Rating -15 to 400 Deg F; Pressure Rating 6000 PSIG CWP, 25 PSI (Cracking); Inclusions/Features ASTM A479 Type 316 Stainless Steel Poppet, Oxygen Service; Application Uni-Directional Flow Control of Fluid and Gas, Chemical Processing, Oil and Gas Production and Transmission, Pharmaceutical, Pulp and Paper, Power and Utility, Back Flow Preventer; Hex Size 0.75 Inch and 0.563 Inch; Flow Capacity 0.75 Cv
Features/Benefits
Resilient, Custom Molded, Blow-Out Resistant Seat Design; Back Stopped Poppet Minimize Spring Stress; 100% Factory Tested for Both Crack and Reseat; Heat Code Traceability; To Receive Valve Cleaned and Assembled for Oxygen Service in Accordance with Parker Specification ES8003
Series/Model Information
Parker C Series Check Valves are designed for uni-directional flow control of fluids and gases in industries such as chemical processing, oil and gas production and transmission, pharmaceutical, pulp and paper, power and utilities.
Inclusions
316 Stainless Steel Stem/Vent Tube