Ashcroft Digital Pressure Gauge
302074SD02LXC46B160# Ashcroft Digital Pressure Gauge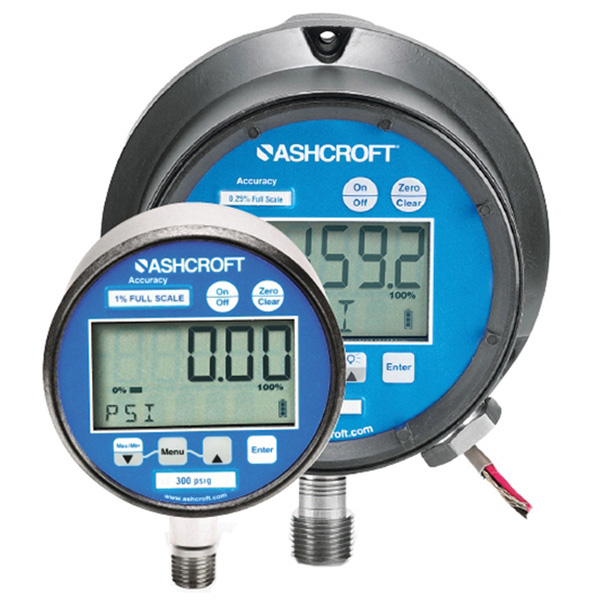 Dial Size:

3"

Connection Location:

Lower Mount

Display Type:

5-Digit LCD

Enclosure Rating:

IP65

Full-Scale Accuracy:

+/-0.25 Percent

Max. Pressure:

160 PSI

Min. Pressure:

0 PSI

Sensor Element:

17-4 Stainless Steel Diaphragm/316L Stainless Steel Socket

Temperature Rating:

14 to 140 Deg F (Process), -4 to 158 Deg F (Storage)

Enclosure Material:

304 Stainless Steel

End Connection:

1/4" Threaded
Ashcroft 2074 Digital Pressure Gauge, 1/4" NPT, 0 to 160 PSI, +/-0.25% Accuracy, 3" 5-Digit LCD Display, 17-4 Stainless Steel Diaphragm/316L Stainless Steel Socket, 304 Stainless Steel Case, Laser Welded Joint, Dry, Lower, Multi-Function, Single Scale, Digital Pressure Gauge with Battery Powered.
Browse All 2074, 2174, & 2274 Products
Product Description
Digital Pressure Gauge; Pressure Gauge Type Multi-Function, Single Scale; Minimum Pressure 0 PSI; Maximum Pressure 160 PSI; Display Type 5-Digit LCD; Enclosure IP65; Enclosure Material 304 Stainless Steel; End Connection 1/4 Inch Threaded; Connection Location Lower; Sensor Element 17-4 Stainless Steel Diaphragm/316L Stainless Steel Socket; Dial Diameter 3 Inch; Filler Material None; Temperature Rating 14 to 140 Deg F (Process), -4 to 158 Deg F (Storage); Full Scale Accuracy +/-0.25 Percent; Application Hydraulic and Pneumatic Equipment, Test Bench/Gauge Repair Facility, Specialized OEM Equipment, Measurement and Validation, Weighing System, Pump Control, Clean for Gaseous Oxygen; Case Design Type Dry; Joint Type Laser Welded; Input Power Battery Powered; Applicable Standard CRN, CSA, NIST
Features/Benefits
Battery powered visual pressure indicator; Easy to use menu options; Save cost and pipe cut outs; Save space
Series Information
The Ashcroft® 2074 industrial digital pressure gauge is a battery powered multifunctional instrument providing exceptional features and performance. Polysilicon thin film technology makes pressure measurement extremely reliable and virtually unaffected by shock and vibration. An ideal product for industrial test and measurement applications.