Cantel (Mar Cor) Chemflex Refillable Dry Wipe System (Incl. Pop-up container plus 6 Rolls of Dry Wipes)
3024761 Cantel (Mar Cor) Chemflex Refillable Dry Wipe System (Incl. Pop-up container plus 6 Rolls of Dry Wipes)
In Stock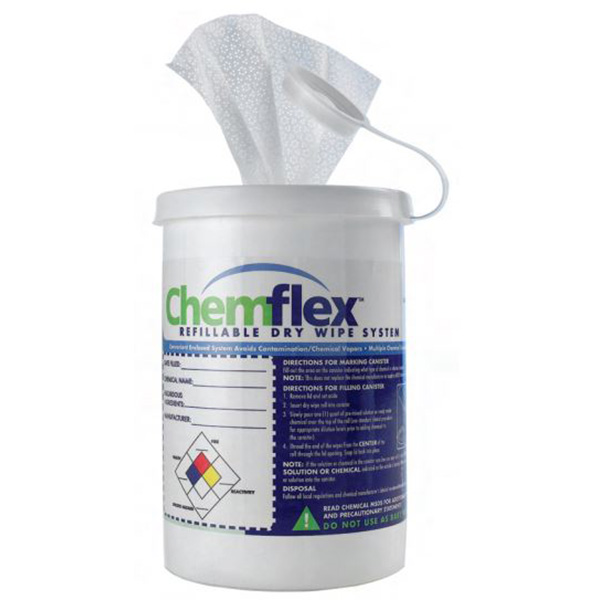 Product Type:

Refillable Dry Wipe System

Quantity:

1 Pop-Up Container and 6 Rolls of Dry Wipes

Refine Search:

Sterilization Parts & Accessories
Cantel (Mar Cor) Chemflex Refillable Dry Wipe System includes convenient pop-up container plus 6 Rolls of Dry Wipes. (Actril Surface Disinfectant must be purchased separately.)
Actril Cold Sterilant is an effective, ready-to-use disinfectant and sterilant for hard surfaces commonly found in pharmaceutical cleanrooms. Surfaces made from nonporous materials such as plastics, stainless steel or glass can be disinfected using Actril Cold Sterilant solutions.
This Chemflex Refillable Dry Wipe System offering is a NON-cellulose replacement towel and must be paired with Actril Surface Disinfectant sterilant. One liter of Actril must be poured into the refillable container for each roll of wipes. The Actril Surface Disinfectant must be purchased separately:
Browse All Actril Minncare Cold Sterilants Products
Product Description
Chemflex has been validated for use with Actril® peracetic acid and other (PAA) solutions, citric acid and bleach (1% & 10% concentrations). The wipe material is cellulose free and will not compromise the strength of the disinfectant like some cellulose (paper) based products.
Our studies show that once a disinfectant is added to the Chemflex System, it remains stable for five days. In one study using a 1% bleach solution, the chlorine levels in the solution remained well above the CDC and CMS guidelines of 300 to 600 ppm of chlorine even on the fifth day. The refillable closed container provides an easy, accessible system to disinfect patient areas with less exposure to harsh vapors and reduced risk of spills.
Features
Eliminate stability problems associated with disinfectants
Less time mixing/diluting; good for up to 5 days
Closed container system
Reduces the risk of cross-contamination
Less exposure to harmful vapors
Cellulose & Latex free
Convenient pop-up container
Low lint, large (7"x10") and durable wiper material
Specifications
Pack Factor - 1 canister with 6 dry wipe rolls/case
Product Description - 7" x 10" wipes 150/roll
Shelf Life - 5 days once disinfectants have been added to the canister
Accuracy and Validation
Validation studies have been completed on four chemistries: 1% and 10% bleach solution, citric acid detergent solution and PAA solution. These studies examined the saturation levels, wipe integrity and chemical concentration over a 14-day period. Bleach and Peracetic Acid test strips are available for the daily validation of disinfectant strength.
Safety Procedure
When replacing dry wipes, refill the canister using the same disinfectant indicated by the end user on the outside of the container.
NEVER PLACE A DIFFERENT TYPE OF DISINFECTANT IN THE CANISTER OTHER THAN WHAT IS INDICATED IN THE CHEMICAL FIELD, ON THE OUTSIDE CANISTER.
Chemflex refillable dry wipe system requires the operator to wear personal protective equipment as defined in the labeling of the disinfectant used with the Chemflex System.
Efficacy of Actril Cold Sterilant