Ashcroft Industrial Pressure Gauge
351009AW02BXFF30IMV&30# Ashcroft Industrial Pressure Gauge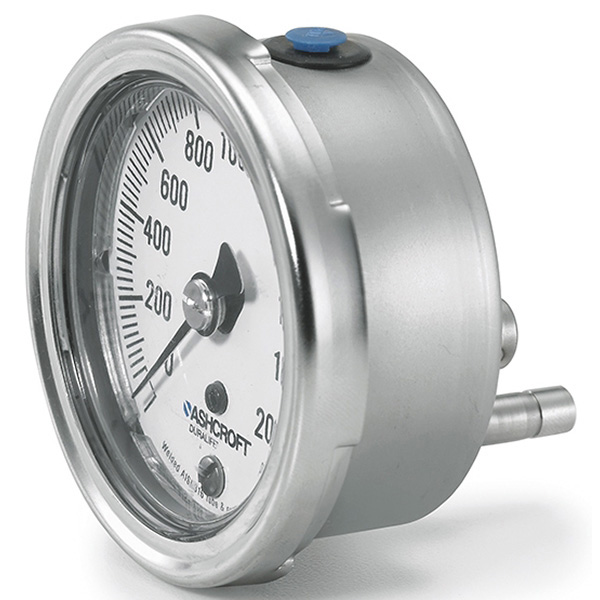 Dial Size:

3-1/2"

Connection Location:

Lower Back Mount

Application:

Boiler, Equipment Skid, Hydraulic and Pneumatic, Pump and Compressor, Severe Ambient Condition, Specialized OEM Equipment

Dial Color:

White

Dial Material:

Aluminum

Display Type:

Dial

Enclosure Rating:

IP54/65, NEMA 4X

Full-Scale Accuracy:

+/-1 Percent

Max. Pressure:

0 Inch Hg/30 PSI

Min. Pressure:

30 Inch Hg/0 PSI

Mounting Type:

Panel

Pointer Color:

Black

Pointer Material:

Aluminum

Pointer Type:

Adjustable

Sensor Element:

316L Stainless Steel Bourdon Tube/Aluminum Bronze Socket

Temperature Rating:

-40 to 200 Deg F (Ambient), -40 to 250 Deg F (Process/Storage)

Enclosure Material:

304 Stainless Steel

End Connection:

1/4" Male Threaded
Ashcroft 1009 Industrial Pressure Gauge, 1/4" MPT, 30" Hg to 30 PSI, +/-1% Accuracy, 3-1/2" White Aluminum Dial, Adjustable Pointer, 316L Stainless Steel Bourdon Tube/Aluminum Bronze Socket, 304 Stainless Steel Case/Ring/Movement, Polycarbonate Window, Dry, Lower Back, Single Scale, Industrial Pressure Gauge with Front Flange.
Product Description
Industrial Pressure Gauge; Pressure Gauge Type Single Scale; Minimum Pressure 30 Inch Hg/0 PSI; Maximum Pressure 0 Inch Hg/30 PSI; Mounting Type Panel; Display Type Dial; Enclosure NEMA 4X, IP54/65; Enclosure Material 304 Stainless Steel; End Connection 1/4 Inch Male Threaded; Connection Location Lower Back; Sensor Element 316L Stainless Steel Bourdon Tube/Aluminum Bronze Socket; Dial Diameter 3-1/2 Inch; Dial Material Aluminum; Dial Color White; Pointer Type Adjustable; Pointer Material Aluminum; Pointer Color Black; Filler Material None; Temperature Rating -40 to 200 Deg F (Ambient), -40 to 250 Deg F (Process/Storage); Full Scale Accuracy +/-1 Percent; Application Pump and Compressor, Boiler, Equipment Skid, Specialized OEM Equipment, Hydraulic and Pneumatic, Severe Ambient Condition; RoHS Compliant; Case Design Dry; Dial Figure Color Black; Movement/Ring Material 304 Stainless Steel; Window Material Polycarbonate; Includes Front Flange; Applicable Standard CRN, PED
Features/Benefits
Corrosion resistant; Dry gauges are field fillable; PowerFlex™ movement provides superior resistance to shock, vibration and pulsation; True Zero™ reduces reading errors by using "zero box" instead of conventional dial pins; PLUS!™ performance available for liquid filled performance with a dry gauge; MSL helium leak tested to 1X10 -6 scc/s; Ventable fill plug; RoHS Compliant
Series Information
The Ashcroft® 1009AW/SW pressure gauge offers exceptional quality, durability, and performance. An ideal choice for satisfying most applications and installation requirements.