Chromalox SRL 8-2CR Self-Regulating Low Temperature Heating Cable
Chromalox SRL 8-2CR Self-Regulating Low Temperature Heating Cable
In Stock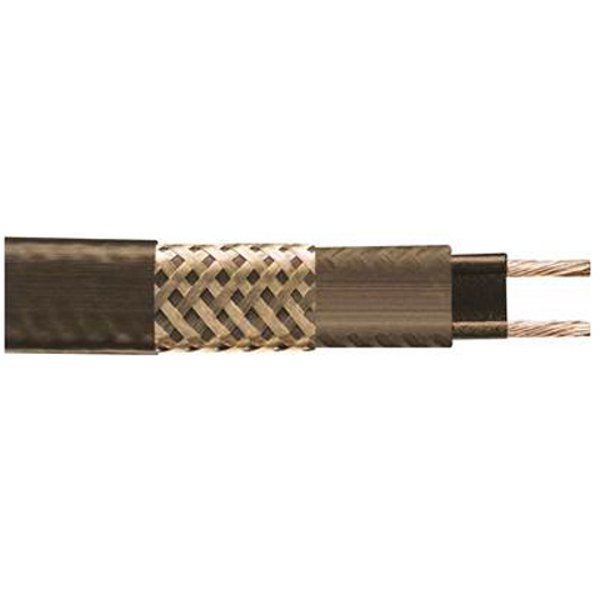 Manufacturer:

Chromalox

Product Family:

Model SRL, SRL Series

Watts Per Foot:

8W/ft

Conductor Type:

Tinned Copper Braid

Input Voltage:

240V

Sheath Material:

Modified Polyolefin

Product Type:

Self-Regulating Heating Cable
Chromalox SRL Self-Regulating Low Temp. Heating Cable, 240V, 8W/ft.@50°F output, 150°F max. maint. temp., tinned copper braid, TPR overjacket, 16 AWG buss wire. CABLE SUPPLIED MAY NOT BE ONE CONTINUOUS LENGTH. IF THIS IS REQUIRED, ORDER BY PHONE.
Product Description
Chromalox SRL self-regulating heating cable provides safe, reliable heat tracing for freeze protection of pipes, valves, tanks and similar applications.
FEATURES:
Energy efficient, self-regulating SRL uses less energy when less heat is required.
Easy to install, SRL can be cut to any length (up to maximum circuit length) in the field.
Self-Regulating, Energy Efficient
16 AWG Buss Wire
Circuit Lengths to 660 Feet
Process Temperature Maintenance to 150°F (65°C)
Maximum Continuous Exposure Temperature (Power Off) 185°F (85°C)
Industrial Freeze Protection Applications
Freeze Protection of Fire Protection System Piping
Field Splicing Without Disrupting Heat Output
3, 5, 8 and 10 Watts per Foot
120 and 208-277 Volts Available From Stock
Approximate Size 3/8" x 1/8"
Minimum Bend Radius is 1-1/8"
Field splices can be performed easily in minutes with no scrap or wasted cold sections.
SRL features lower installed cost than steam tracing, less maintenance expense, and less downtime.
SRL can be single overlapped without burnout, which simplifies heat tracing of in-line process equipment such as valves, elbows and pumps.
Because SRL is self-regulating, overtemperature conditions are virtually impossible.
Chromalox termination, splice, tee and end seal kits reduce installation time.
UL listed for use on fire protection System piping.
APPROVALS:
ATEX and IECEX Exe IIGb, Factory Mutual (FM) Approved for ordinary areas. UL Listed, CSA Certified for ordinary areas. UL listed for freeze protection of fire protection system piping. FM Approved for hazardous (classified) areas when used with U Series, DL and EL accessories:
Class I, Div. 2, Groups B, C, D (gases, vapors)
Class II, Div. 2, Groups F, G (combustible dust)
Class III, Div. 2 (easily ignitable fibers and fillings)
3 Watt Rated T6 Temperature Class
5 and 8 Watt Rated T5 Temperature Class
10 Watt Rated T4A Temperature Class.
CSA Certified for hazardous areas when used with DL, EL or U Series accessories:
Class I, Div. 2, Groups A, B, C, D
Class II, Div. 2, Groups F, G.
ATEX and IECEX Exe IIGb
IIG Exe II
Dimension Drawing