Fairchild High Flow No Bleed Pressure Regulator
Fairchild High Flow No Bleed Pressure Regulator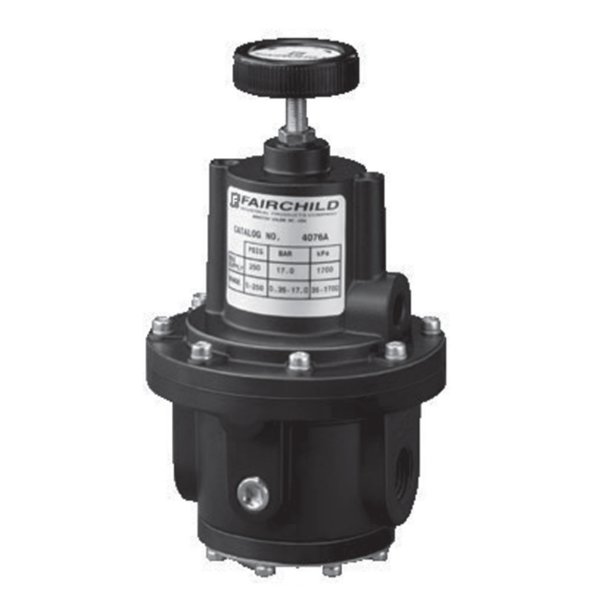 Refine Search:

Industrial

Product Type:

No Bleed Precision Regulator

Manufacturer:

Fairchild

Product Family:

Model 4000A

Diaphragm Material:

Nitrile on Dacron

Flow Capacity:

150 SCFM at 100 psig

Mounting:

20555-1 mounting bracket available

Port Size:

3/4 FPT

Max. Outlet Pressure:

250 PSIG

Port Type:

FPT
Fairchild M4000A: High Flow No Bleed Pressure Regulator, 0.5-30 psig 250 psig max, 150 SCFM at 100 psig, Aluminum body, Nitrile on Dacron diaphragm, 3/4 FPT ports. 20555-1 mounting bracket available.
Product Description
Model 4000A Pneumatic Pressure Regulator

Features
Control sensitivity of 1/2" water column allows use in precision applications.
Large Supply and Exhaust Valves provide high forward and exhaust flows.
Soft Supply and Exhaust Valve seats minimize air consumption.
A balanced Supply Valve minimizes the effect of supply pressure variation.
An Aspirator Tube compensates downstream pressure droop under flow conditions.
A separate Control Chamber isolates the diaphragm from the main flow to eliminate hunting and buzzing.
Unit construction lets you service the Model 4000A without removing it from the line.
Canadian Registration Number (CRN) certification for all territories and provinces.
Dimension Drawing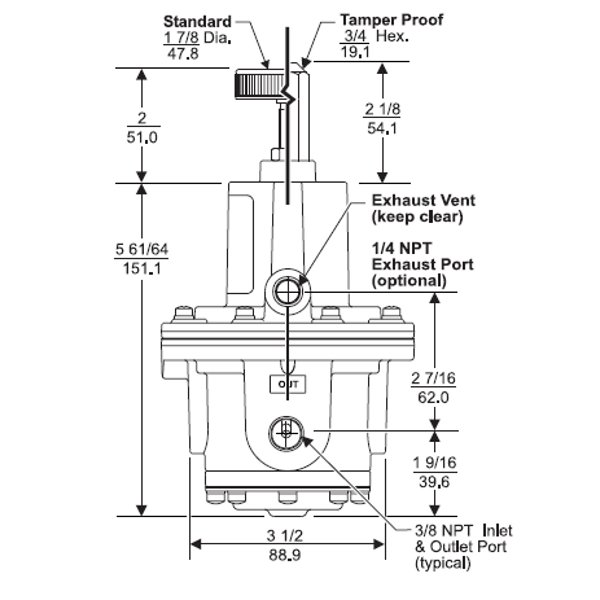 Recommended Products