Bürkert Pivoted Armature Solenoid Valve
44302-BURKRT Bürkert Pivoted Armature Solenoid Valve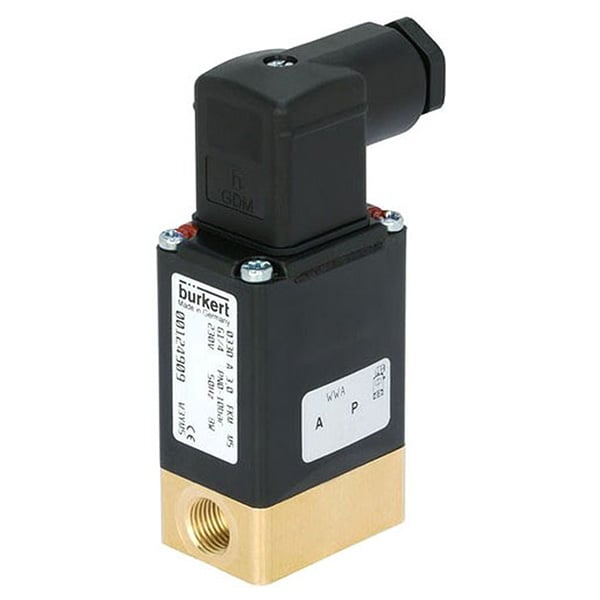 Media Handled:

Neutral Gas and Liquid, Technical Vacuum

Port Connection:

G1/4 Inner Threaded x G1/4 Inner Threaded

Temperature Rating:

-10 to 100°C (Medium),-10 to 55°C (Environment)

Valve Position:

Normally Closed

Weight:

0.94 lb

Applicable Standard:

ATEX, CE, IECEx

Application:

Universal for Gas and Fluid

Body Material:

Brass

Enclosure:

IP65

Input Supply Rating:

110 VAC 50 Hz

Pressure Rating:

0 to 10 Bar

Type:

2-Way/2-Position, Direct Acting, Vibrationproof
Bürkert Type 0330 Pivoted Armature Solenoid Valve, G1/4 x G1/4 x G1/4, FPT x FPT x FPT, 5/32" Orifice, 24 VDC, 8 W,-1 to 3 Bar, 180 LPM, Brass, Normally Closed, 3-Way/2-Position, Direct Acting, Vibrationproof, Pivoted Armature Solenoid Valve.
Product Description
Plunger Solenoid Valve; Type 2-Way/2-Position, Direct Acting, Vibrationproof; Port Connection G1/4 Inner Threaded x G1/4 Inner Threaded; Valve Position Normally Closed; Body Material Brass; Enclosure Type IP65; Input Supply Rating 110 Volt AC 50 Hertz; Temperature Rating -10 to 100 Deg C (Medium),-10 to 55 Deg C (Environment); Pressure Rating 0 to 10 Bar; Media Handled Technical Vacuum, Neutral Gas and Liquid; Inclusions/Features Fluorocarbon Seal, Locknut, Polyamide Cable Plug/Cover, Nitrile Rubber Flat Seal, Copper Shading Ring; Application Universal for Gas and Fluid; Applicable Standard CE, ATEX, IECEx; RoHS Compliant; Power Rating 8 Watt; Coil Size 32 Millimeter; Coil Material Polyamide; Coil Insulation Class Type B; Orifice Size 1/8 Inch; Kv Factor 0.23 Cubic Meter per Hour; Flow Direction Above Seat
Features/Benefits
Direct-acting and compact valve up to diameter of DN 6.0; Vibration-proof, bolted coil system; Increased leak-tightness with welded plunger guide tube; RoHS Compliant
Series Information
Valve 6013 is a direct-acting plunger valve. The stopper and plunger guide tube are welded together to enhance pressure resistance and leak-tightness. Various seal material combinations are available depending on the application. A Bürkert-specific flange design (SFB) enables space-saving arrangement of valves on a manifold. The coils are moulded with polyamide or with chemically resistant epoxy. Pulse coils and 'Kick and Drop' electronics are available for overexcitation (plug 2511) for the reduction of electrical power consumption during operation. Optional manual actuation enables quick commissioning and easy maintenance. In combination with a plug in accordance with DIN EN 175301-803 Form A, the valves satisfy protection class IP65. Stainless steel valves satisfy NEMA 4X.