Cantel (Mar Cor) FiberFlo 450 Grade Hollow Fiber Cartridge Filter
450-205 Cantel (Mar Cor) FiberFlo 450 Grade Hollow Fiber Cartridge Filter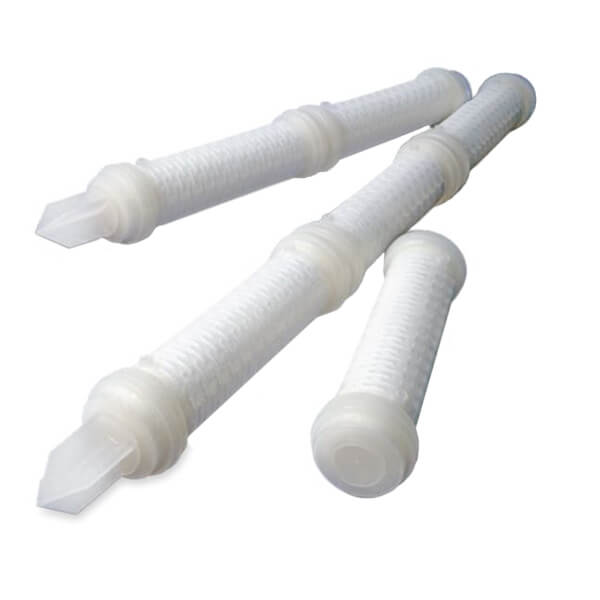 End Style and Seal:

SOE Fin End External 226 O-ring

Filter Rating:

0.45 Micron

Nominal Length:

20 in.
Cantel (Mar Cor) FiberFlo Medical/Pharma Grade Hollow Fiber Cartridge, 0.45 micron abs, 2.9 in ODx20 in len, Polypro endcaps, SOE fin end, external 226 O-ring Polyurethane O-Rings, 30psid max fwd/psid max rev, change < 15psid. Sold in case of 1.
Browse All FiberFlo Hollow Fiber Cartridge Filters Products
Product Description
The Minntech FiberFlo HF hollow fiber cartridge filter provides consistent and verifiable pyrogen removal that surpasses traditional, absolute-rated membrane filters. High level endotoxin, bacteria, and spore removal makes this filter ideal for a range of water purification or process fluid applications. With up to three times the surface area of comparable pleated cartridge filters, the HF filter provides greater capacity and longer life than pleated filters, resulting in lower filter replacement costs. Also, this membrane filter offers a combination of higher surface area and membrane porosity that allows for higher flow rates at lower Filter Ratings.
Medical and pharmaceutical grade design
Removes pyrogens
Choice of four pore sizes from 0.05 to 0.45 micron
Wide choice of end connections
Lengths available from 10" to 40"
Higher flow rates at lower pressure drops
Extended life and repeatedly rewettable without wetting agents