Bürkert Pivoted Armature Solenoid Valve
450830-BURKRT Bürkert Pivoted Armature Solenoid Valve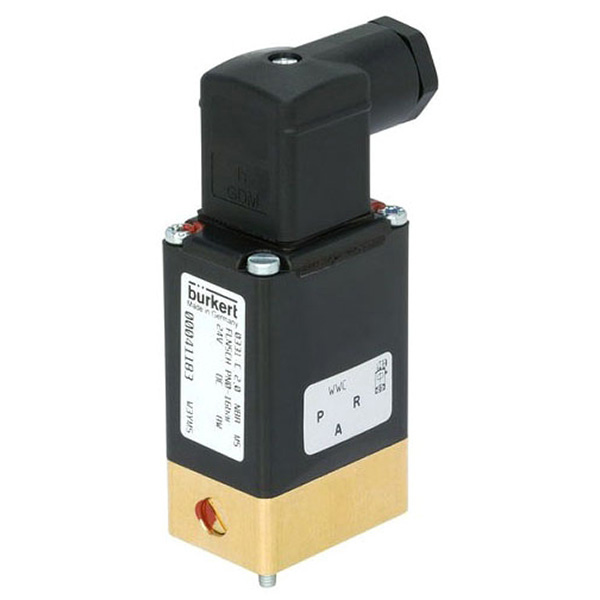 Media Handled:

Compressed Air, Neutral Gas

Port Connection:

G1/8 Inner Threaded x Flanged x G1/8 Inner Threaded x Flanged

Temperature Rating:

-10 to 50°C (Medium),-10 to 55°C (Environment)

Valve Position:

Normally Open

Weight:

0.45 lb

Applicable Standard:

ATEX, CE

Application:

Pneumatic

Body Material:

Polyamide

Enclosure:

IP65

Flow Rate:

300 LPM

Input Supply Rating:

24 VDC

Pressure Rating:

2 to 10 Bar

Type:

4-Way/2-Position
Bürkert Type 0331 Pivoted Armature Solenoid Valve, Flanged x Flanged x Flanged, 1/8" Orifice, 24 VDC, 8 W, Brass, Normally Open, 3-Way/2-Position, Direct Acting, Pivoted Armature Solenoid Valve.
Product Description
Solenoid Valve; Type 4-Way/2-Position; Port Connection G1/8 Inner Threaded x Flanged x G1/8 Inner Threaded x Flanged; Valve Position Normally Open; Body Material Polyamide; Enclosure Type IP65; Input Supply Rating 24 Volt DC; Flow Rate 300 LPM; Temperature Rating -10 to 50 Deg C (Medium),-10 to 55 Deg C (Environment); Pressure Rating 2 to 10 Bar; Media Handled Compressed Air, Neutral Gas; Inclusions/Features Nitrile Rubber Seal; Application Pneumatic; Applicable Standard CE, ATEX; RoHS Compliant; Power Rating 2 Watt; Orifice Size 4 Millimeter
Features/Benefits
Extendable valve block; Reduced power consumption; Different pneumatic connections available; Robust construction; RoHS Compliant
Series Information
Valves of type 5470 consist of a type 6106 pilot rocker solenoid valve and a pneumatic valve. An armature with a tilting bearing, similar o a rocker, tilts within the body of the pilot valve, and switches the valve. The minimal tilting movement of the rocker is non-wearing, and basic lubrication is unnecessary. The type 5470 R is available as a 3/2 and 4/2-way valve. The valves can be mounted together individually using the module flange. In various applications, they can be used advantageously as valve blocks. Different variants are available for service ports 2 and 4.