Bürkert Aggressive Fluid Solenoid Valve
Bürkert Aggressive Fluid Solenoid Valve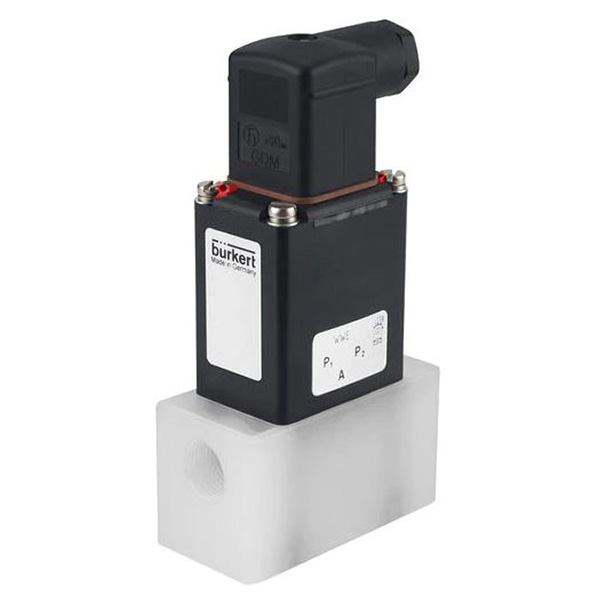 Manufacturer:

Bürkert

Product Family:

Type 0121

Actuation Type:

Pneumatic Piston Operated, Single/Double Acting Piston, Classic/Robust Actuator

Applicable Standard:

ATEX, CE, EN-ISO 10204 2.2, IECEx

Body Material:

Cast 316L Stainless Steel

End Connection:

Inner Threaded x Inner Threaded

End To End Distance:

120 mm

Nominal Size:

1-1/2 in. x 1-1/2 in.

Pressure Rating:

0 to 9 Bar (Nominal), 5 to 10 Bar (Control)

Seal Material:

PTFE

Temperature Rating:

-10 to 180°C (Medium),-10 to 60°C (Environment)

Type:

2-Way/2-Position

Weight:

7.05 lb
Bürkert Type 0121 Aggressive Fluid Solenoid Valve, G3/8 x G3/8 x G3/8, NPT x NPT x NPT, 1/4" Orifice, 120 VAC 60 Hz, 8 W, PVC, 3-Way/2-Position, Direct Acting, Vibrationproof, Aggressive Fluid Solenoid Valve.
Product Description
Angle Seat Valve; Type 2-Way/2-Position; Actuation Type Pneumatic Piston Operated, Single/Double Acting Piston, Classic/Robust Actuator; Nominal Size 1-1/2 Inch x 1-1/2 Inch; End Connection Inner Threaded x Inner Threaded; End to End Distance 120 Millimeter; Body Material Cast 316L Stainless Steel; Seal Material PTFE; Temperature Rating -10 to 180 Deg C (Medium),-10 to 60 Deg C (Environment); Pressure Rating 0 to 9 Bar (Nominal), 5 to 10 Bar (Control); Inclusions/Features Transparent Cap, Stainless Steel Pilot Air Port/Tube/Nipple Fitting/Swivel Plate/Spring/Spindle/Pin, PTFE V-Seal/Wiper, Nitrile Rubber Piston Seal; Applicable Standard CE, EN-ISO 10204 2.2, IECEx, ATEX; Valve Position Normally Closed; Kv Factor 38 Cubic Meter per Hour; Orifice Size 40 Millimeter; Actuator Size 80 Millimeter; Actuator Material Polyamide; Flow Direction Type Below Seat; Control Media Type Neutral Gas, Air
Features/Benefits
Long service life; High flow rate; Very high cycle life; Robust actuators with modular accessory program; CIP Capable; SIP Capable
Series Information
The externally piloted angle seat valve is operated with a single or double–acting piston actuator. The actuator is available in two different materials, depending on the ambient temperature. High flow rates are attained with the virtually straight flow path. The reliable self–adjusting packing gland provides high sealing integrity. These maintenance-free and robust valves can be retrofitted with a comprehensive range of accessories for position indication, stroke limitation or manual override.