Bürkert Pivoted Armature Solenoid Valve
457505-BURKRT Bürkert Pivoted Armature Solenoid Valve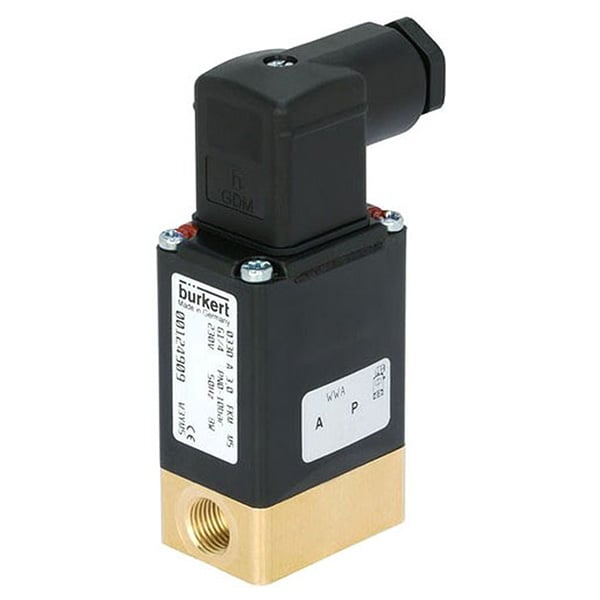 Media Handled:

Fluid, Neutral Gas

Port Connection:

Flanged x Flanged

Temperature Rating:

-10 to 100°C, 55°C (Ambient)

Valve Position:

Normally Closed

Weight:

0.2 lb

Applicable Standard:

CE

Application:

Fluid, Universal for Gas

Body Material:

Stainless Steel

Enclosure:

IP65

Input Supply Rating:

24 VDC

Pressure Rating:

0 to 4.5 Bar

Product Family:

Type 0330

Type:

2-Way/2-Position, Direct Acting
Bürkert Type 0330 Pivoted Armature Solenoid Valve, 1/4" x 1/4" x 1/4", NPT x NPT x NPT, 1/8" Orifice, 120 VAC 60 Hz, 8 W, Polyvinylidene Fluoride, Universal, 3-Way/2-Position, Direct Acting, Vibrationproof, Pivoted Armature Solenoid Valve.
Product Description
Plunger Solenoid Valve; Type 2-Way/2-Position, Direct Acting; Port Connection Flanged x Flanged; Valve Position Normally Closed; Body Material Stainless Steel; Enclosure Type IP65; Input Supply Rating 24 Volt DC; Temperature Rating -10 to 100 Deg C, 55 Deg C (Ambient); Pressure Rating 0 to 4.5 Bar; Media Handled Neutral Gas, Fluid; Inclusions/Features Fluorocarbon Seal; Application Universal for Gas, Fluid; Applicable Standard CE; RoHS Compliant; Power Rating 4 Watt; Coil Insulation Type Class B; Orifice Size 2 Millimeter; Kv Factor 0.11 Cubic Meter per Hour
Features/Benefits
Direct-acting and compact small-format valve with diameter of up to DN 2.4; Screwed coil system; Simple and quick flange or manifold installation; Quick coupling (push-in fitting) for plug-in hose connections; RoHS Compliant
Series Information
Valve 6011 is a direct-acting plunger valve. The stopper and plunger guide tube are welded together to enhance pressure resistance and leak-tightness. Various seal material combinations are available depending on the application. A Bürkert-specific flange design (SFB) enables space-saving arrangement of valves on a manifold. Push-in fittings can be selected for flexible hose connection. In combination with a cable plug in accordance with industry standard Form B or DIN EN 175301-803 Form C, the valves satisfy protection class IP65.