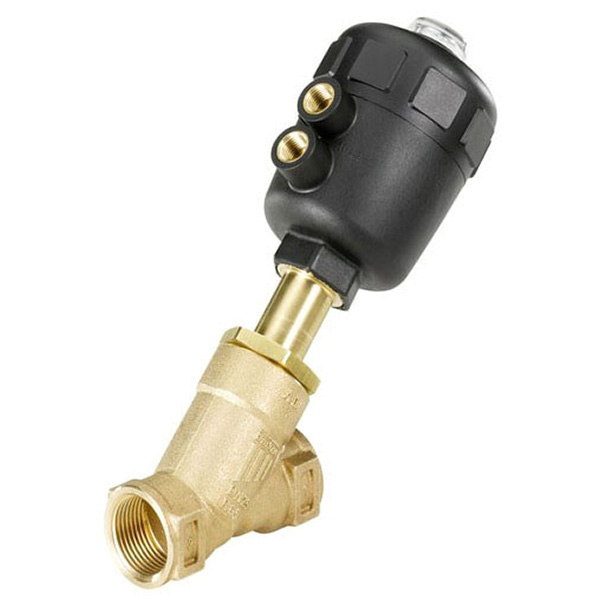 Manufacturer:

Bürkert

Product Family:

Type 2000

Actuation Type:

Electrical Rotary

Applicable Standard:

ISO, UL

Body Material:

Stainless Steel

End Connection:

Threaded x Threaded

End To End Distance:

185 mm

Nominal Size:

2-1/2 in. x 2-1/2 in.

Seal Material:

PTFE

Temperature Rating:

-10 to 55°C

Type:

2-Way/2-Position
Bürkert Type 2000 Angle Seat Valve, 3/4" x 3/4", FPT x FPT, 20 MM Orifice, 50 MM PA Classic/Robust Actuator, Cast 316L Stainless Steel, Opened by Spring Force, Pneumatic Piston Operated, Single/Double Acting Piston, 2-Way/2-Position, Angle Seat Valve.
Product Description
Ball Valve; Type 2-Way/2-Position; Actuation Type Electrical Rotary; Nominal Size 2-1/2 Inch x 2-1/2 Inch; End Connection Threaded x Threaded; End to End Distance 185 Millimeter; Body Material Stainless Steel; Seal Material PTFE; Temperature Rating -10 to 55 Deg C; Inclusions/Features Electrical Rotary Actuator, Adjustable Limit Switch; Applicable Standard UL, ISO; Orifice Size 2-1/2 Inch; Voltage Rating 100 to 240 Volt AC 50 to 60 Hertz/100 to 350 Volt DC; Torque Rating 100 Newton-Meter
Features/Benefits
High flow rate value; Actuator with adjustable limit switches; Visual position indicator; Manual override in standard
Series Information
The electrical ball valve Type 8804 consists of an electrical rotary actuator and a 2/2 or 3/2-way ball valve made of stainless steel. 2-way variants are available with a 2-piece or 3-piece ball valve for various applications. The 3-way ball valves are available in L and T bore version. The rotary actuator is compactly built. Moreover it can be used as single device for the operation of other control elements (see datasheet Type 3003). Heat resistors and torque limiters are standard. The body is made of low inflammable material, classified acc. to UL 94 V0.