Fairchild Products Model 4800A Pneumatic Volume Booster 1:1 ratio
4896ANJNS Fairchild Products Model 4800A Pneumatic Volume Booster 1:1 ratio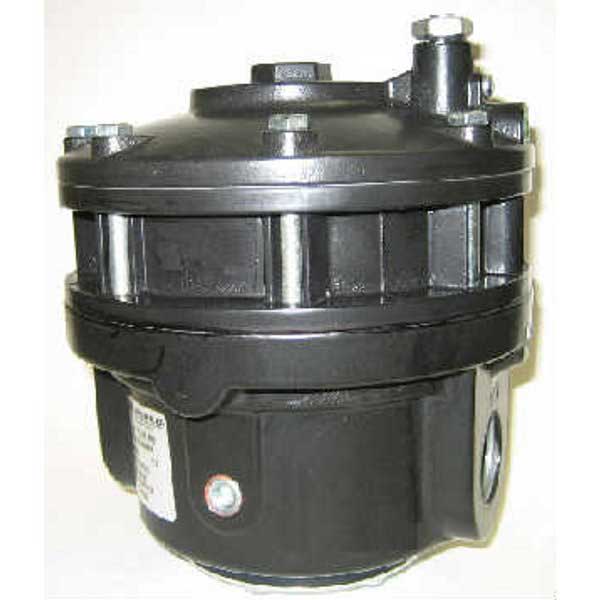 Product Type:

Pneumatic Volume Booster

Accuracy:

0.50 psi

Sensitivity:

1.5 psi

Supply Pressure:

250 psi

Pressure Range:

0-150 psi

Flow Capacity:

500 SCFM

Pipe Size:

3/4 FPT

Body Material:

Aluminum

Elastomer:

Viton on polyester

Ambient Temperature:

-40 F (-40 C) to 200 F (93.3 C)

Base Model:

4896A

Exhaust Capacity:

100 SCFM [170m3/Hr] where downstream pressure is 5 psi above 20 psi setpoint

Exhaust Type:

Straight (standard)

ExhaustCv:

7

FlowCv:

7

Mounting:

Wall (order 21363-1 bracket below)

Operator:

Pneumatic pilot signal

Options:

[9] Cv 7 [J] Viton [N] no feedback port [S] SS trim

Ratio:

1:1

RatioAccuracy:

0.5 pct of 100 psi output span

Flow Capacity:

150 SCFM (255 M³/HR)

Max. Output Pressure:

150 PSIG

Max. Supply Pressure:

250 PSIG

Signal to Output Pressure Ratio:

1:1
Fairchild Model 4800A Pneumatic Volume Booster, 1:1 ratio, 250 psi [17 BAR] supply, 500 SCFM [850m3/Hr]@100 psi supply/20 psi set, 150 psi [10 BAR] max output, 3/4 FPT line, 1/4 FPT gau/sig, 3/4 FPT exhaust, Viton, no feedback port.
Browse All Model 4800A Products
Product Description
The Rotork Fairchild Model 4800A is a High Flow Pneumatic Volume Booster specifically designed for valve and valve actuation systems. With a Cv of 9 in both forward and exhaust modes, this pilot operated booster provides fast response and accurate control for valve actuation. In addition, the M4800A has an integral bypass valve, for optimum tuning and adjustment, even while in operation, to obtain maximum performance on opening and closing times with minimal overshoot or oscillation. In its pilot operated regulator design, the M4800A handles up 250 psig [17 BAR] (1700 kPa) supply pressure and delivers an output pressure up to 150 psig [10 BAR] (1000kPa). The Fairchild Model 4800A Booster provides a flow capacity of 500 SCFM [850m3/Hr]), which equates to a Cv factor of approximately 9 in both forward and exhaust modes.
Fast response for quick valve opening and closing times
Highly accurate valve control for your system
Provides accurate and stable final positioning of the valve
Optimizes response time and stability
Provide efficient leak free operation and prevents hunting, especially when used with modern electronic feed & bleed type valve positioners
Maintains deadband specification preventing changes in control characteristics when supply pressure changes
Protects valves from damaging oscillation under high flow conditions
Provide convenient access to the outlet for additional control accessories and pressure monitoring
Allows for easy collection of exhaust air or use of a silencer
Certification for use in all Canadian territories and provinces
NOTES:
Oil free air must be applied to the regulator. Use a filter to remove dirt and entrained liquid in the air line ahead of the regulator. If an air line lubricator is used, it MUST be located downstream of the regulator, to avoid interference with regulator performance.
Dimension Drawing