4A-NSL-EPR-SS-V Parker Metering Valve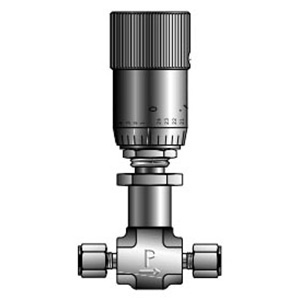 Actuation:

1/25 Turn Vernier Handle

Application:

Monitoring System, Test Panel

Body Material:

ASTM A182 F316 Stainless Steel

End Connection:

A-LOK Double Ferrule Compr. x A-LOK Double Ferrule Compr.

End To End Distance:

2.04 in.

Handle Material:

ASTM A582 303 SS

Nominal Size:

1/4 in. x 1/4 in.

Pressure Rating:

2000 PSIG CWP

Temperature Rating:

-40°F to 250 °F
Parker NSL Series Metering Valve, 1/4" x 1/4", A-LOK Double Ferrule Compression x A-LOK Double Ferrule Compression, 2000 PSIG CWP, F316 Stainless Steel, Ethylene Propylene Rubber Seal, 1/25 Turn Vernier Handle, 0.039 Cv, In-Line, Metering Valve.
Product Description
Needle Valve; Type In-Line, Panel Mount; Actuation Type T-Bar Handle; Nominal Size 3/8 Inch x 3/8 Inch; Orifice Diameter 0.228 Inch; End Connection Tube Socket Weld x Tube Socket Weld; End to End Distance 2.26 Inch; Bonnet Type Union; Stem Type Regulating; Body Material ASTM A182 F316 Stainless Steel; Stem Material ASTM A276/A564 316/630 Stainless Steel; Seal Material Grafoil; Handle Material Stainless Steel; Temperature Rating -65 to 1200 Deg F; Pressure Rating 6000 PSIG CWP; Inclusions/Features Stainless Steel Bonnet/Bonnet Nut/Stem Guide/Ball/Packing Nut/Packing Washer/Handle Screw/Locking Nut, Nickel Chromium Iron Alloy Bonnet Seal; Exclusions Nylon 6/6 Dust Seal; Application Steam Blow Down Service, Process Control Line, High Temperature Sampling Line; Flow Capacity 0.85 Cv
Features/Benefits
Union Bonnet Design Ensures High Integrity Seal Under Severe Service Applications; Packing Below the Power Threads Protects Thread Lubricants from Media and Isolates the Lubricants from the Media; Dust Seal in the Packing Nut Protects Stem Threads from External Contamination; Stem Swivel Above the Packing Eliminates Entrapment Area and Increases Packing Life; 100% Factory Tested
Series/Model Information
Parker's U Series Union Bonnet valves are engineered for use at pressures up to 6,000 (414 bar) and temperatures as high as 1,200°F (649°C). The heavy duty design has a non-rotating lower stem that helps to extend packing life by removing stem rotation through the packing area. Stem packing below the threads isolates the thread lubricant from the flow, ensuring adequate lubrication regardless of the media.
Inclusions
316 Stainless Steel Handle Pin/Body Pin/Retaining Ring, Fluorocarbon Rubber O-Ring, PTFE Back-Up Ring