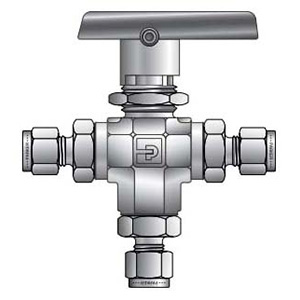 Manufacturer:

Parker Instrumentation

Product Family:

B6X Series

Actuation:

Diverter 180 Degree Lever Handle

Application:

Flow Diversion/Selection, Instrument Panel, Process Mixing System, Quick Fill System, Remote Shut-Off

Ball Material:

316 Stainless Steel

Body Material:

ASTM B283 Alloy C37700 Brass

End Connection:

Female Threaded x Female Threaded x Female Threaded

End To End Distance:

3.02 in.

Handle Material:

Black Nylon 6/6

Nominal Size:

1/4 in. x 1/4 in. x 1/4 in.

Pressure Rating:

1500 PSIG

Seal Material:

Nitrile Rubber

Seat Material:

PTFE

Stem Material:

ASTM A276 316 Stainless Steel

Temperature Rating:

-40°F to 250 °F
Parker B6X Series Ball Valve, 1/4" x 1/4" x 1/4", FPT x FPT x FPT, 1500 PSIG, Brass, Nitrile Rubber Seal, Black Diverter 180D Lever Handle, 3-Way, Panel Mount, Ball Valve.
Product Description
In-Line Filter; Item In-Line Filter, Compact; Nominal Size 1/8 Inch x 1/8 Inch; End Connection Type Female Threaded x Female Threaded; End to End Distance 2.01 Inch; Body Material C36000 Brass Alloy; Temperature Rating -70 to 275 Deg F; Pressure Rating 3000 PSIG CWP; Includes 316 Stainless Steel Spring/Filter Element, Brass Cap, PTFE Guide Ring and Ethylene Propylene Rubber Seal; Hex Size 0.75 Inch; Flow Capacity 0.339 Cv; Filter Rating 50 Micron; Effective Filtration Area 0.7 Square Inch; Application General Hydraulic
Features/Benefits
Compact In-Line Design with Large Filtration Area; Heat Code Traceable
Series/Model Information
Parker F Series In-Line Filters are designed for protection of instrumentation systems from undesirable materials. Component changes or repair and maintenance can admit dirt, chips, scale, or other contaminants to the small bore tubing. These compact filters offer the installer a wide range of seals and sizes to meet any instrumentation system requirements. A flow arrow is permanently marked on the filter body to help in proper installation.
Inclusions
PTFE Connector O-Ring/Retainer Seal/Stem Seal, 316 Stainless Steel Stem Washer/Panel Nut/Seat Retainer/End Connector/Packing Nut, Stainless Steel Handle Set Screw