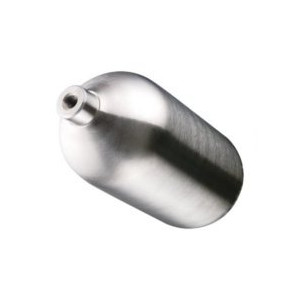 Product Type:

Sample Cylinders

Manufacturer:

Parker Instrumentation

Product Family:

SC Series

Connection:

1/4 in. FNPT

Internal Volume:

2250 CC

Materials:

Stainless Steel

Temperature Rating:

-58 °F to 450 °F (-50 °C to 232 °C)

Configuration:

Double End
Parker Cylinder, Process Sample, Pressure Rating: 1800 psig (124 bar), Internal Volume: 2250 CC, Material: stainless steel, Configuration: double end, Connection: 1/4" fnpt, Temperature Rating: -58 °f to 450 °f (-50 °c to 232 °c), Additional Detail: Cleaned for oxygen service,
Product Description
Sample Cylinders
Parker stainless steel sample cylinders provide safe containment for storage and transportation of both liquids and gases. These cylinders are DOT rated to 1800 psig (124 bar) at 70°F (21°C). Applications include hydrocarbon sampling in refineries, gas sampling in chromatography, and condensate sampling in fossil fuel and nuclear power plants.
Stainless Steel Cylinders
Stainless steel sample cylinders are hot spun from seamless Type 316 tubing for integrity and corrosion resistance. The process provides a smooth internal flow transition through the neck to minimize pockets which can trap previous samples. Without the need for welding, the interior surface is free of any imperfections. As a result, less contamination will adhere to the interior surface when the cylinder is cleaned.
ANSI/ASME B1.20.1 internal pipe threads are machined into both ends of each cylinder to engage external pipe connections of Parker valves, rupture disc units, or fittings.
Specifications
Pressure and temperature rating:
1800 psig (124 bar)
-58°F to 450°F (-50°C to 232°C)
DOT-3E 1800:
75, 150, 300, and 500cc with 1/4" NPT threads
DOT-3A 1800:
1000 and 2250cc with 1/4" NPT threads
DOT-3A 1800:
3785cc (1 gallon) with 1/2" NPT threads
Dimension Drawing