4Z-B6XJ-SS-61ACX-2-DVM Parker Ball Valve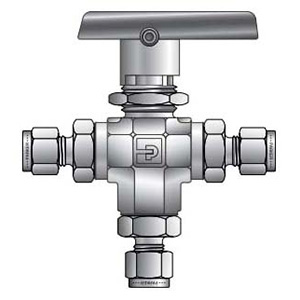 Actuator Condition:

180 Degree Spring Return

Actuator Dimensions:

8.5 in. L x 2.36 in. H

Actuator Type:

Dual Mount, Dual Opposed Piston, Pneumatic

Body Material:

ASTM A351 Grade CF3M Stainless Steel

End Connection:

CPI Single Ferrule Compr. x CPI Single Ferrule Compr. x CPI Single Ferrule Compr.

End To End Distance:

3.48 in.

Flow Rate:

0.7 Cv

Nominal Size:

1/4 in. x 1/4 in. x 1/4 in.

Seal Material:

PTFE

Stem Material:

ASTM A276 316 Stainless Steel

Temperature Rating:

-65°F to 350 °F
Parker B6X Series Ball Valve, 1/4" x 1/4" x 1/4", CPI Single Ferrule Compression x CPI Single Ferrule Compression x CPI Single Ferrule Compression, 1500 PSIG, Stainless Steel, PTFE Seal, Spring Return Dual Mount Pneumatic Actuator, 3-Way, Diverter, Panel Mount, Ball Valve.
Product Description
Needle Valve; Type Angle, Panel Mount; Actuation Type T-Bar Handle; Nominal Size 1/8 Inch x 1/8 Inch; Orifice Diameter 0.093 Inch; End Connection Female Threaded x Female Threaded; Bonnet Type Integral; Stem Type Blunt; Body Material ASTM A182 F316 Stainless Steel; Stem Material ASTM A276 316 Stainless Steel; Seal Material PTFE; Handle Material Black Stainless Steel; Temperature Rating -65 to 450 Deg F; Pressure Rating 5000 PSIG CWP; Inclusions/Features Stainless Steel Packing Nut/Lower Packing Washer/Handle Screw, PTFE Packing, Brass Upper Packing Washer; Application Process System Control and Shut-Off, Sampling Bottle, Instrument Air, Control Panel; Flow Capacity 0.16 Cv
Features/Benefits
Differential Hardness Between the Strain Hardened Stem and Cold Formed Body Threads Provides Improved Cycle Life; 100% Factory Tested; Designed for Positive Leak Tight Shut-Off and Regulation of Fluids in Process, Power and Instrumentation Application
Series/Model Information
Parker's V Series Needle Valves are designed for positive, leak tight shut-off and regulation of fluids in process, power, and instrumentation applications. These In-Line and angle pattern valves come with a wide variety of port sizes and styles, temperature capabilities ranging from -65°F to 450°F (-54°C to 232°C) and pressures to 5000 psig (345 bar)). V Series Needle Valves provide the utmost in flexibility when designing instrumentation tubing or piping systems.
Inclusions
PTFE Connector O-Ring/Back-Up O-Ring/Stem Seal, 316 Stainless Steel Stem Washer/Panel Nut/Seat Retainer/End Connector/Packing Nut/Seat Retainer Washer, Stainless Steel Handle Set Screw/Spring, Fluorocarbon Rubber Seat Retainer O-Ring