4Z-RL4A-VT-SS-MN-KB Parker Relief Valve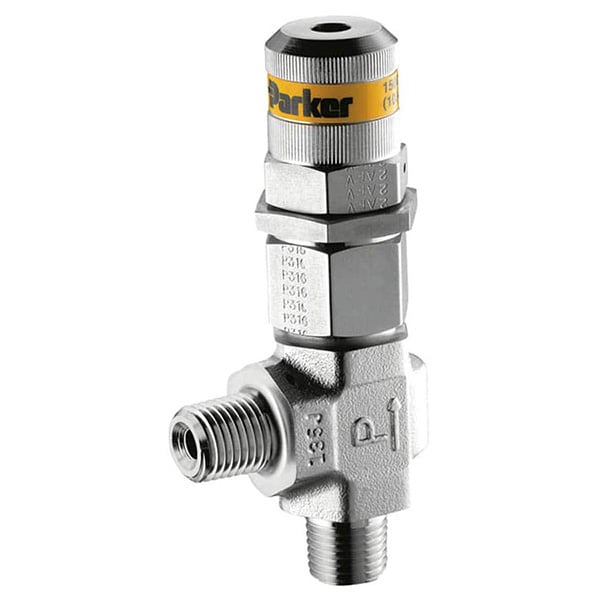 Application:

Monitoring Line, Process Control Line, Research Equipment

Body Material:

ASTM A182 F316 Stainless Steel

End Connection:

CPI Single Ferrule Compr. x CPI Single Ferrule Compr.

Inlet Size:

1/4 in.

Outlet Size:

1/4 in.

Pressure Rating:

400 PSIG CWP, 25 to 50 PSIG (Cracking)

Seal Material:

Fluorocarbon Rubber

Spring Material:

17Cr-7Ni Stainless Steel

Temperature Rating:

-10°F to 400 °F
Parker RL4A Series Relief Valve, 1/4" x 1/4", CPI Single Ferrule Compression x CPI Single Ferrule Compression, 400 PSIG CWP/25 to 50 PSIG Cracking, 316 Stainless Steel, Fluorocarbon Rubber Seal, Manual Overdrive Handle, Adjustable Pressure, Angle, Relief Valve.
Product Description
Relief Valve; Type Adjustable Pressure, Angle; Inlet Size 1/2 Inch; Outlet Size 1/2 Inch; End Connection CPI Single Ferrule Compression x CPI Single Ferrule Compression; Body Material ASTM A182 F316 Stainless Steel; Spring Material 17Cr-7Ni Stainless Steel; Seal Material Fluorocarbon Rubber; Temperature Rating -10 to 400 Deg F; Pressure Rating 400 PSIG CWP, 10 to 25 PSIG (Cracking); Inclusions/Features PTFE Back-Up Ring/Washer, 316 Stainless Steel Cap/Upper Stem/Bonnet/Lower Stem/Stem Guide/Handle Stem/Locknut, Fluorocarbon Rubber Stem Seal/Seat, Zinc Plated Steel Plug, Phenolic Handle; Application Process Control Line, Research Equipment, Monitoring Line; Hex Size 7/8 Inch and 1 Inch
Features/Benefits
Pressure Settings are Externally Adjustable While the Valve is in Operation; Multiple Spring Ranges Provide Greater System Sensitivity and Enhanced Performance; Captured Molded Seat Design is Blow-Out and Chip Resistant; Color Coded Springs and Labels Indicate Spring Cracking Range; Lock Wire Feature Secures a Given Pressure Setting; Back Pressure has Minimum Effect on Cracking Pressure
Series/Model Information
Parker R Series Relief Valves are unique since they offer both a low pressure valve line (RL4) and a higher pressure valve line (RH4). They are both designed such that when the upstream pressure exceeds the closing force exerted by the spring, the lower stem opens, permitting flow through the valve. Flow through the valve increases proportionately to the increase in upstream pressure. These relief valves work from 1-25 psig crack pressure systems up to 5,000-6,000 psig crack pressure systems. The highly visible color coded labels on the valves indicate the associated crack pressure spring included in the valve.
Inclusions
Stainless Steel Packing Nut/Lower Packing Washer/Handle Screw, PTFE Packing, Brass Upper Packing Washer