WIKA Pressure Transmitter
50426401 WIKA Pressure Transmitter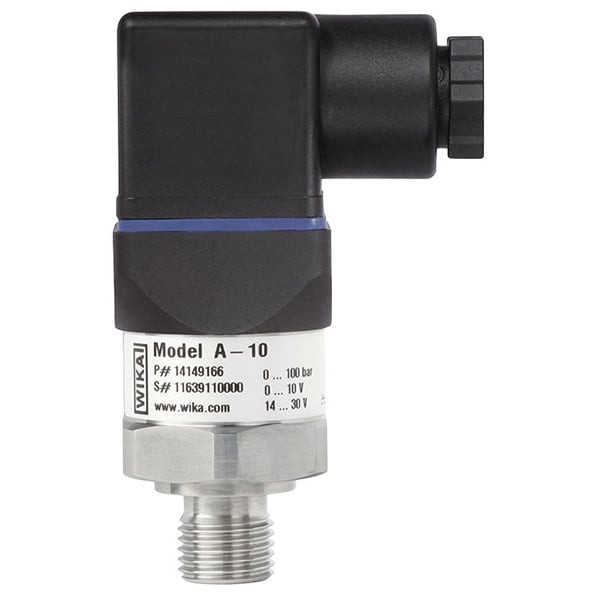 Product Type:

Pressure Transmitter

Accuracy:

+/-0.5 % BFSL (Non-Linearity)

Approval:

EAC, GL, UL (Canada and US)

Housing Material:

316L Stainless Steel

Mounting Method:

Vertical

Operating Temperature:

0 to 80 Deg C

Pressure Range:

0 to 25 PSI

Process Connection:

1/4 in. Male Threaded

Voltage Rating:

80 to 30 VDC
WIKA Type A-10 Pressure Transmitter, 1/4" MPT, 80 to 30 VDC, 4 to 20 mA 2-Wire Output, 0 to 25 PSI, +/-0.5% Accuracy, 316L Stainless Steel, Vertical Mount, Electronic, Pressure Transmitter.
Product Description
Pressure Transmitter; Type Electronic; Pressure Measuring Range 0 to 25 PSI; Voltage Rating 80 to 30 Volt DC; Output Current Signal Range 4 to 20 Milliamp, 2-Wire; Operating Temperature 0 to 80 Deg C; Accuracy +/-0.5 Percent BFSL (Non-Linearity); Process Connection 1/4 Inch Male Threaded; Housing Material 316L Stainless Steel; Mounting Vertical; Approval UL (Canada and US), GL, EAC; Electrical Connection Valve Connector, Size A; Insulation Voltage 500 Volt DC; Atmospheric Pressure Rating 860 to 1060 Mbar; Relative Humidity 45 to 75 Percent RH; Application General Purpose, Industrial, Machine/Ship Building, Measurement, Control Technology, Hydraulic, Pneumatic, Pump and Compressor
Series/Model Inforomation
The model A-10 pressure transmitter for general industrial applications is not only notable for its compact design, but it also offers excellent quality at an extremely competitive price. The user can choose between a non-linearity of 0.25 % and 0.5 %. A free test protocol provides information on the measuring points recorded during manufacture.