Barksdale OEM Pressure Transducer
623H4-13-P2 Barksdale OEM Pressure Transducer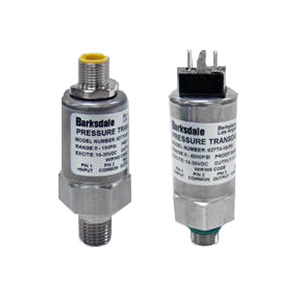 Product Type:

Pressure Transducer

Accuracy:

+/-0.5 %

Air Connection:

7/16 Inch-20 SAE #4 ORB

Applicable Standard:

UL (Canada and US)

Application:

General Industrial, HVAC System, Hydraulic and Pneumatic, Machine Tool, Medical Gas System, Mobile Hydraulic, Pumps and Compressor, Water Irrigation System

Body Material:

Stainless Steel

Current Rating:

15 mA

Electrical Connection Details:

Mini-DIN 43650 Type C-Mating Connector

Output Signal:

0.5 to 5.5 VDC

Pressure Rating:

0 to 3000 PSI

Temperature Rating:

-40 to 185 Deg F

Type:

Voltage to Pressure

Voltage Rating:

9 to 30 VDC, 3-Wire
Barksdale 623 Series OEM Pressure Transducer, 1/4" MPT, 9 to 30 VDC, 3-Wire, 15 mA, 0.5 to 5.5 VDC Output, +/-0.5% Accuracy, 0 to 3000 PSI, Stainless Steel, OEM Pressure Transducer with Mini-DIN 43650 Type C-Mating Connector.
Product Description
OEM Pressure Transducer; Type Voltage to Pressure; Output Signal 0.5 to 5.5 Volt DC; Air Connection 7/16 Inch-20 SAE #4 ORB; Voltage Rating 9 to 30 Volt DC, 3-Wire; Current Rating 15 Milliamp; Electrical Connection Details Mini-DIN 43650 Type C-Mating Connector; Accuracy +/-0.5 Percent; Body Material Stainless Steel; Temperature Rating -40 to 185 Deg F; Pressure Rating 0 to 3000 PSI; Application Water Irrigation System, Medical Gas System, HVAC System, Pumps and Compressor, Machine Tool, Hydraulic and Pneumatic, Mobile Hydraulic, General Industrial; Applicable Standard UL (Canada and US); Process Connection Material 316 Stainless Steel; Sensor Material Ceramic; O-Ring Material Viton; Enclosure Rating NEMA 4X, IP65; Typical Life Cycle 100 Million
Features/Benefits
Compact size; Ceramic sensor technology; Current and voltage outputs
Series Information
Barksdale's Series 600 is the ideal solution for applications that require a low cost, accurate, reliable transducer in a small package. Where long term stability is a requirement, the Series 600 transducer delivers. With a robust ceramic sensor that excels in rugged environments, the Series 600 offers high accuracy at 0.5% FSO and thermal stability within .06% over the entire operating range of -40 to 185° F. Wetted materials of 316 stainless steel, ceramic and Viton® make it ideal for use with aggressive media.