Fairchild Pneumatic Filter Service Regulator
63252NKCGS Fairchild Pneumatic Filter Service Regulator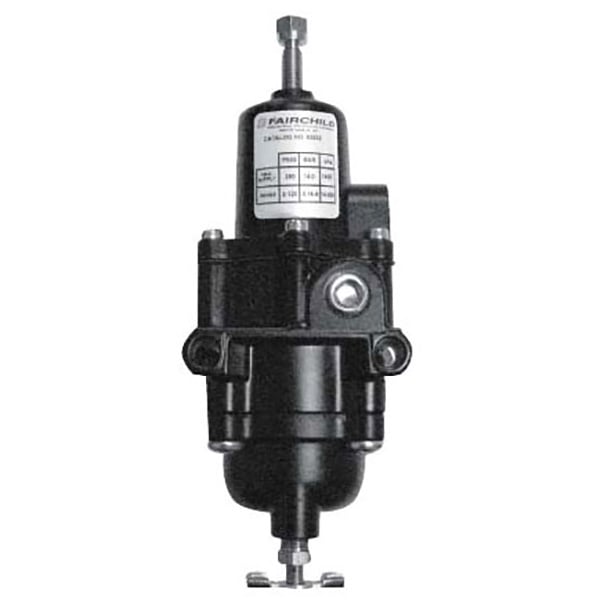 Product Type:

Filter Regulator, Service Regulator

Adjustment Type:

Screw Adjust

Air Consumption:

25 SCFM at 100 PSIG (Flow), 0.8 SCFM at 5 PSIG (Exhaust)

Body Material:

Epoxy Coated Aluminum

Diaphragm Material:

Element Material

End Connection:

Threaded x Threaded

Filter Rating:

5 µm

Inlet Pressure:

300 PSIG

Outlet Pressure:

2 to 120 PSIG

Port Size:

1/4 in. x 1/4 in.

Size:

3.15 in. W x 8.19 in. H

Temperature Rating:

-40 to 180 Deg F

Refine Search:

Pneumatic
Fairchild Model 63 Pneumatic Filter Service Regulator, 1/4" NPT Port, 2 to 120 PSIG, Epoxy Coated Aluminum, Knob Adjustment, Non-Bleed, Pneumatic Filter Service Regulator with 2" Pressure Gauge and Standard Tapped Exhaust Vent.
Product Description
Pneumatic Filter Service Regulator; Type No Bleed; Adjustment Type Knob; Port Size 1/4 Inch x 1/4 Inch; End Connection Threaded x Threaded; Size 3.15 Inch Width x 8.19 Inch Height; Filter Rating 5 Micron; Pressure Gauge Included Yes; Body Material Epoxy Coated Aluminum; Air Consumption 25 SCFM at 100 PSIG (Flow), 0.8 SCFM at 5 PSIG (Exhaust); Inlet Pressure 300 PSIG; Outlet Pressure 2 to 120 PSIG; Temperature Rating -40 to 180 Deg F; Gauge Port Size (2) 1/4 Inch Threaded; Supply Pressure Effect 1.25 PSIG; Sensitivity 1 Inch WC; Includes Quick Bleed Valve, 2 Inch Pressure Gauge, Stainless Steel Trim/Drain, Nitrile Elastomer, Pipe Plug, Standard Tapped Exhaust Vent, Soft Relief Seat; Applicable Standard FM, ISO 9001, CRN
Features
High Flow Capacity; The No-Brass Construction is Well Suited to Harsh Environments; Epoxy Coated Finish for Superior Corrosion Resistance; Non-Bleed Design to Reduce Consumption; Integral Relief Valve; A Gauge Port Provides Convenient Pressure Gauge Mounting; The Standard 5-Micron Filter Minimizes Internal Contamination; The Filter Dripwell Contains a Drain Plug to Easily Drain Trapped Liquids; Standard Tapped Exhaust; Soft Relief Seat Minimizes Air Loss
Series/Model Info
The Fairchild Model 63 filter regulator is a general purpose service regulator with an integral 5 micron filter within its dripwell bowl. In most applications, a pneumatic filter regulator must provide good filtration and high flow to serve the needs of the system without restricting its performance. The Model 63 pressure regulator is well suited to these applications as it has a standard 5 micron filter and has the highest flow capacity of any regulator in its class. In addition, the Model 63 features control sensitivity of 1" water column and an integral relief valve to deliver consistent and reliable performance to maintain your desired set point regardless of supply pressure changes or conditions. The Fairchild Model 63 will handle a 300 psi, 20 BAR, maximum supply pressure and offers three (3) output pressure ranges from 0.5-30 psi, 0.03-2 BAR, 3-200 kPa, up to 2-120 psi, 0.14-8 BAR, 14-800 kPa. The Fairchild Model 63 pressure regulator offers up to 25 SCFM, 42.5 m3/hr flow capacity.