Parker Poly-Tite Fittings 68P Male Connector
68P-6-6 Parker Poly-Tite Fittings 68P Male Connector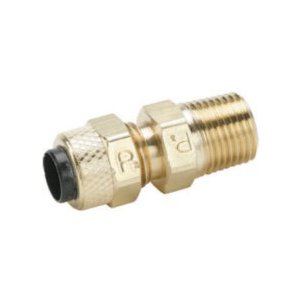 Refine Search:

Straight

End 1 Type:

Tube Fitting

End 2 Size:

3/8 in.

End 2 Type:

MNPT

Product Type:

Connector
Parker Poly-Tite Fittings Male Connector 68P, Low Pressure Fitting Straight, Tube to Pipe, Brass, 3/8 x 3/8in Male Connector, Compression, Male Pipe.
Product Description
Poly-Tite Fittings
A preassembled compact compression fitting. An exclusive acetal copolymer sleeve has superior resilience to resist creeping and stress caused from compression. Poly-Tite nuts will rotate around the sleeve as it tightens to prevent twisting and weakening of the plastic tubing.
Assembly Instructions:
Polyethylene, polypropylene and vinyl tubing:
1. Cut tubing squarely–maximum of 15° angle allowable.
2. Check that port or mating part is clean and free of debris.
3. Insert tube end until it bottoms in the Poly-Tite fitting and tighten knurl/hex nut finger-tight — plus one wrench turn.
Dimension Drawing