6M5SEL6-316-VO Parker Elbow Fitting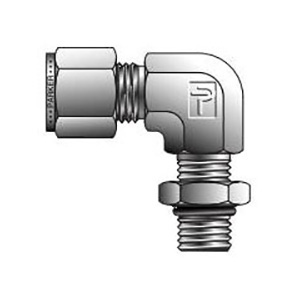 End Connection:

Tube x SAE Straight Male Threaded

Material:

316 Stainless Steel

Material Specification:

ASME SA182 316/BS970 316-S31/DIN 4401

Process:

Close Grain Forging

Size A:

3/8 in.

Size B:

9/16 in.-18 TPI

Application:

Offshore Control Panel, Sensing Line, Steam Service Line
Parker Instrumentation M5SEL Series Elbow Fitting, 3/8" x 9/16"-18 TPI, Tube x SAE Straight MPT, Close Grain Forging 316 Stainless Steel, Double Ferrule, Reducing, Elbow with Viton O-Ring.
Product Description
Elbow Fitting; Type Double Ferrule, Reducing; Size A 3/8 Inch; Size B 9/16 Inch-18 TPI; End Connection Tube x SAE Straight Male Threaded; Material 316 Stainless Steel; Material Specification ASME SA182 316/BS970 316-S31/DIN 4401; Process Close Grain Forging; Application Steam Service Line, Sensing Line, Offshore Control Panel; Hex Size 9/16 Inch; Includes Silver Plated Nut, Viton O-Ring; Used for Fractional Tube
Features/Benefits
Exceptionally Wide Choice of Configuration Style; Suparcase Surface Treatment Process for Superior Material Hardening; Hardened Ferrule Provide Leak-Free Connection; Silver Plated Nut Provide Gall Resistance During Makeup
Series Information
Parker's A-LOK® two ferrule Tube tube fittings are designed to provide reliable leak-free connections for instrumentation, process and control and analyzer applications that specify a two ferrule system. Manufactured to the highest quality standards, these tube fittings are available in a broad range of sizes, corrosion resistant materials and configurations. As standard, Parker's A-LOK® tube fitting are manufactured from heat code traceable 316 stainless steel. Other materials include 6Mo, Alloy 825, Alloy 625 and Alloy C-276. Straight fittings are machined from cold finished bar stock, while shaped bodies are machined from close grain forgings.
Additional Product Information
Elbow Fitting; Type Double Ferrule, Reducing; Size A 3/8 Inch; Size B 9/16 Inch-18 TPI; End Connection Tube x SAE Straight Male Threaded; Material 316 Stainless Steel; Material Specification ASME SA182 316/BS970 316-S31/DIN 4401; Process Close Grain Forging; Application Steam Service Line, Sensing Line, Offshore Control Panel; Hex Size 9/16 Inch; Includes Silver Plated Nut, Viton O-Ring; Used for Fractional Tube