Parker Balston Membrane Air Dryers
76-40 Parker Balston Membrane Air Dryers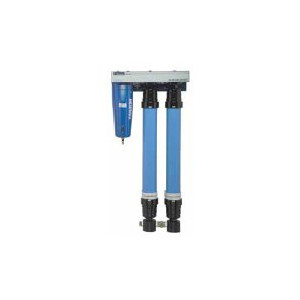 Product Type:

Air Dryer

Dew Point:

-40°F

Dimensions:

19 x 39 x 8 in.

Shipping Weight:

35 lbs (16 kg)

Port Connection:

1/2 in. FNPT
Parker Balston Model 76-40, Dryer, Compressed Air Membrane, NPT (female), -40°F(-40°C) Dewpoint, 40 SCFM at -40°F(-40°C) Dewpoint, wall mountable.
Product Description
Balston Membrane Air Dryers
combine superior coalescing technology with a proven innovative membrane system to supply clean, dry compressed air with dewpoints as low as -40°F (-40°C). Balston Membrane Air Dryers are engineered for easy installation, operation, and long term reliability. The Membrane Dryers incorporate high efficiency coalescing filtration and the highest efficiency membrane available to provide low cost operation and minimal maintenance.
Features & Benefits
Require no electricity
Dewpoints as low as -40°F
Explosion proof
Silent operation
No dessicant to change
Prevent freeze-ups
Low operating cost
Reliable, efficient economical alternative to PSA and refrigerant dryer technologies
Applications
Low dewpoint instrument air
Pneumatic equipment
Pressurize electronic cabinets
Analytical instrumentation
Instrument air for analyzer buildings
Dry air for hazardous areas
General laboratory air supply
Dimension Drawing