8-8-8 R5BZ-SS Parker CPI Male Run Tee
Refine Search:

Tee

End 1 Type:

Single Ferrule Tube Fitting

End 2 Size:

3/4-16 in.

End 2 Type:

SAE Straight Thread

End 3 Size:

1/2 in.

End 3 Type:

Single Ferrule Tube Fitting

Interchanges With:

SS-810-3TST

Product Type:

Run Tee
Parker CPI male run tee, 316SS, 1/2" single ferrule tube fitting x 3/4-16 SAE straight thread (side) x 1/2" single ferrule tube fitting
Product Description
The Parker CPI tube fitting is designed as a leak-free connection for process and instrumentation applications. The CPI tube fitting offers a single ferrule design that requires only two metal-to-metal seal points to affect a leak-tight seal. With fewer components, the CPI tube fitting design reduces potential leak paths. Available in brass, Steel, stainless Steel, and other alloys, the CPI tube fitting seals equally well on both thin and heavy wall metal tubing.
Single ferrule design
Positive leak-free seal after repeated reassembly
Sizes ranging from 1/16 inch to 1-1/2 inch O.D. tubing
Available in 316 stainless Steel, brass, Steel and a variety of alloys
Dimension Drawing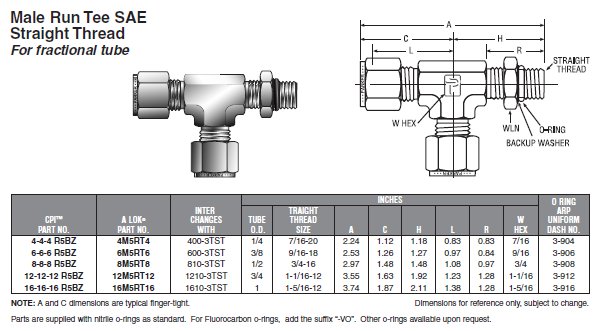 Interchange Disclaimer
Parker guarantees the PARKER CPI™ fittings (including PARKER CPI™ ended valves), both as an assembly and as individual components, are completely interchangeable with the equivalent sizes, components and materials of the Swagelok fittings; however, it should be remembered that the two (2) Swagelok ferrules must be used as a single component when interchanged with the PARKER CPI™ ferrule. Parker guarantees that PARKER CPI™ components may be interchanged and used with Swagelok components with the same confidence the user would have in using a complete set of components from either Parker or Swagelok. This statement is only true provided the quality standards of the Swagelok components are equal to those of the PARKER CPI™ components.