Fairchild Products Model 81 Multi-Stage Pressure Regulator
81442EPT Fairchild Products Model 81 Multi-Stage Pressure Regulator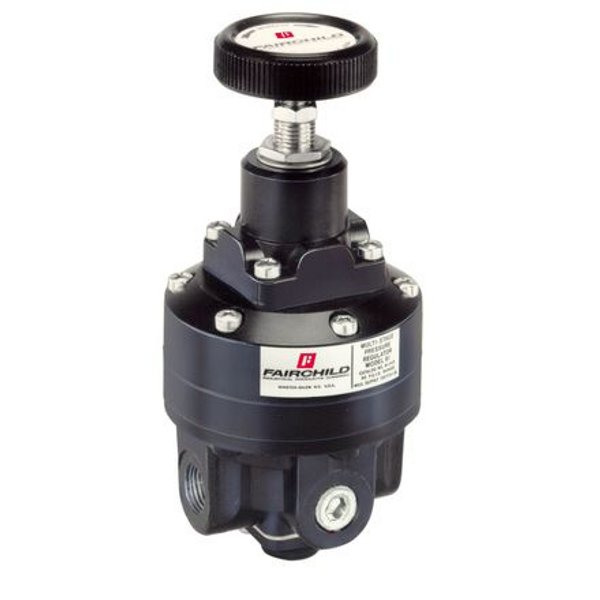 Product Type:

Multi-Stage Pressure Regulator

Accuracy:

0.05 psi

Ambient Temperature:

-40 F (-40 C) to 200 F (93.3 C)

Base Model:

81442

Body Material:

Die Cast Aluminum

Elastomer:

Nitrile on Dacron

Exhaust Capacity:

5.5 SCFM [9.4m3/Hr] downstream pressure 5 psi above 20 psi setpoint

Exhaust Type:

[E] tapped exhaust 1/4 FPT

Flow Capacity:

50 SCFM

Mounting:

Bonnet mount 1-1/4-18 UNEF-2B

Operator:

Tamper proof 3/4 in Hex

Options:

[E] tapped exhaust (FPT) [P] bonnet mount [T] tamper proof

Orifice:

Sapphire

Pipe Size:

1/4 FPT

Pressure Range:

1-60 psi

Sensitivity:

< 0.1 in WC

Supply Pressure:

20-150 psi

Trim:

Stainless Steel Brass Aluminum and Plated Steel

Refine Search:

Industrial
Fairchild Model 81 Multi-Stage Pressure Regulator, 1-60 psi adjust, 20-150 psi [1.5-10 BAR] supply 50 SCFM [85m3/Hr]@100 psi/20 psi set, 1/4 FPT line, 1/8 gauge port, Nitrile on Dacron, tapped exhaust, bonnet mount, tamper proof.
Product Description
The Rotork Fairchild Model 81 is a high flow two stage precision pressure regulator designed for applications that require high performance, low droop and accurate process control. The Model 81 combines a pilot control system with a basic force balance system to provide accurate output pressure regulation for both highly sensitive instrumentation and control circuits and in equipment requiring high flow with precise control. The Fairchild Model 81 features control sensitivity of less than 0.1 in water column, very low consumption and high accuracy to deliver consistent and reliable precision accuracy to maintain your desired set point regardless of supply pressure changes or conditions. The Fairchild Model 81 pneumatic regulator will handle a 250 psig [17 BAR] maximum supply pressure and offers five (5) output pressure ranges from 0-20 psig [0-1.5 BAR] (0-150 kPa) up to 1-100 psig [0.05-7 BAR] (7-700 kPa). The Model 81 precision regulator has a flow capacity of 50 SCFM [136m3/hr].
Well suited for high accuracy applications
Minimizes any droop from downstream flow
Responsive operation with less exhaust time
Sapphire Orifice provides precise control of pilot control air flow
Efficient operation with no losses of air or gas media
NOTES:
Oil free air must be applied to the regulator. Use a filter to remove dirt and entrained liquid in the air line ahead of the regulator. If an air line lubricator is used, it MUST be located downstream of the regulator, to avoid interference with regulator performance.
Review
Safety Guide
for Selecting and Using Fairchild Products and Related Accessories.
Call Valin for technical assistance.
Dimension Drawing